Introducing the MXA902 Integrated Conferencing Ceiling Array
Shure just announced the launch of the Microflex Advance MXA902 Integrated Conferencing Ceiling Array integrated loudspeaker and IntelliMix DSP for small and medium-sized meeting rooms. Since 2016, Shure's Microflex Advance ceiling, wall and table array microphones have been a choice for AV conferencing applications. Following the MXA920 Ceiling Array Microphone launch in 2022, Shure is extending its Microflex Ecosystem portfolio with a bold new audio solution for meeting rooms that deliver microphone, loudspeaker, and DSP technology in one device.
The MXA902 is a complete ceiling-mounted audio solution for AV conferencing, ideal for delivering premium audio capture and reproduction with minimal setup required. Offering an array microphone for enhanced directional voice capture and an integrated wide-dispersion loudspeaker for natural-sounding far-end speech, users will experience the ultimate blend of superior sound quality and streamlined deployment. Onboard IntelliMix DSP applies automatic mixing, echo cancellation, noise reduction, and automatic gain control for a pristine audio mix.
Here's a video of how this works:
To provide a seamless collaboration experience, the MXA902 is officially Certified for Microsoft Teams and Zoom Rooms when paired with the USB Audio Network Interface with Matrix Mixing (ANIUSB-MATRIX). The MXA902 and ANIUSB-MATRIX have undergone rigorous and comprehensive tests in lab and real-life environments. IT professionals and integrators can be certain that Shure continues to deliver only the highest standards in collaboration performance. Meanwhile, end users will enjoy premium audio in an easy-to-use conferencing experience.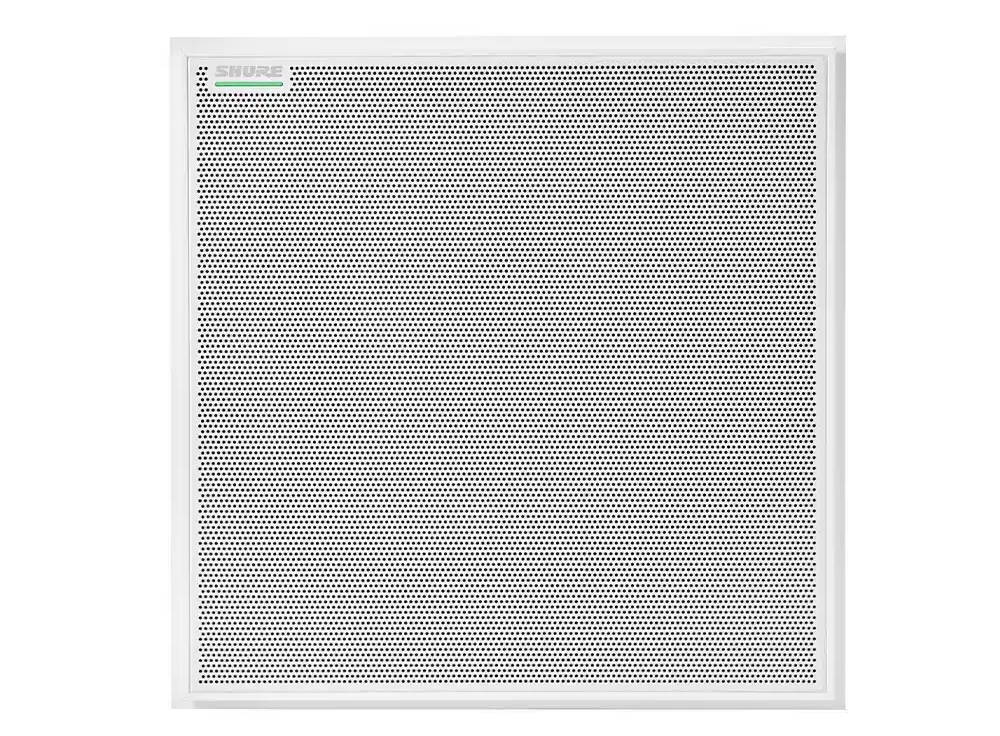 The MXA902 is designed with Single Zone Automatic Coverage Technology, which covers a 20' x 20' space with minimal configuration needed, enabling users to easily and automatically capture the talkers they wish to hear while avoiding noise in other areas of the room. This feature is combined with a wide-dispersion 2.5" high-quality loudspeaker to deliver excellent sound capture and listening from one device. The MXA902 comes equipped with Shure's onboard IntelliMix DSP, and can leverage Automatic Gain Control, Acoustic Echo Cancellation, Noise Reduction and Automatic Mixing to help deliver clear, crisp sound for all in-room and remote meeting participants.
Shure recognizes that communicating confidently is essential for organizations installing such sophisticated audio equipment, which is why the MXA902 was built with Shure Audio Encryption. This ensures audio content is protected among all ShureMicroflex Ecosystem devices in the room, giving customers peace of mind when it comes to meeting confidentiality.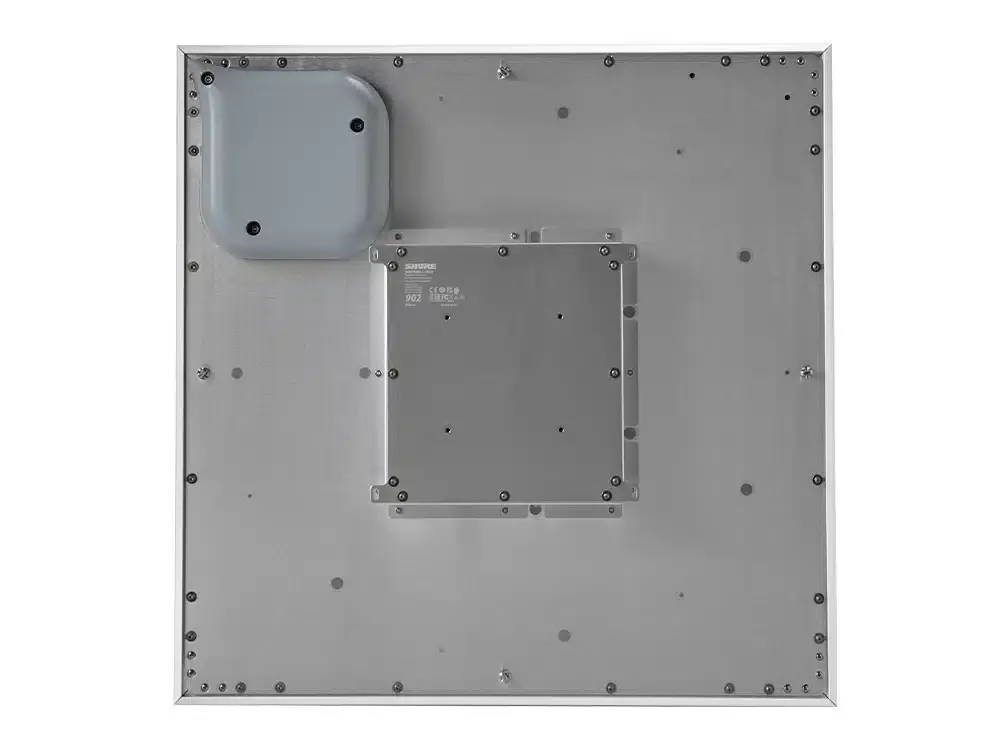 The MXA902 was built for IT managers and AV professionals of all experience levels. It is ideal for anyone looking for an installation-friendly Microflex Ecosystem solution for small to medium collaboration spaces. The MXA902 is compatible with MXA920 series accessory kits, delivering a simplified mounting system that works with various ceiling types, including in-ceiling, on-ceiling, pole, or wire rope. A sleek, white (and paintable) industrial design fits most architectural needs of today's meeting rooms, so installers don't have to worry about making additional cosmetic changes.
During our visit to Infocomm 2023 in Orlando, Florida, we had the opportunity to witness the MXA902 solution in action. In this hands-on demonstration, I was impressed by the solution's various key features and benefits. Let's take a closer look at them.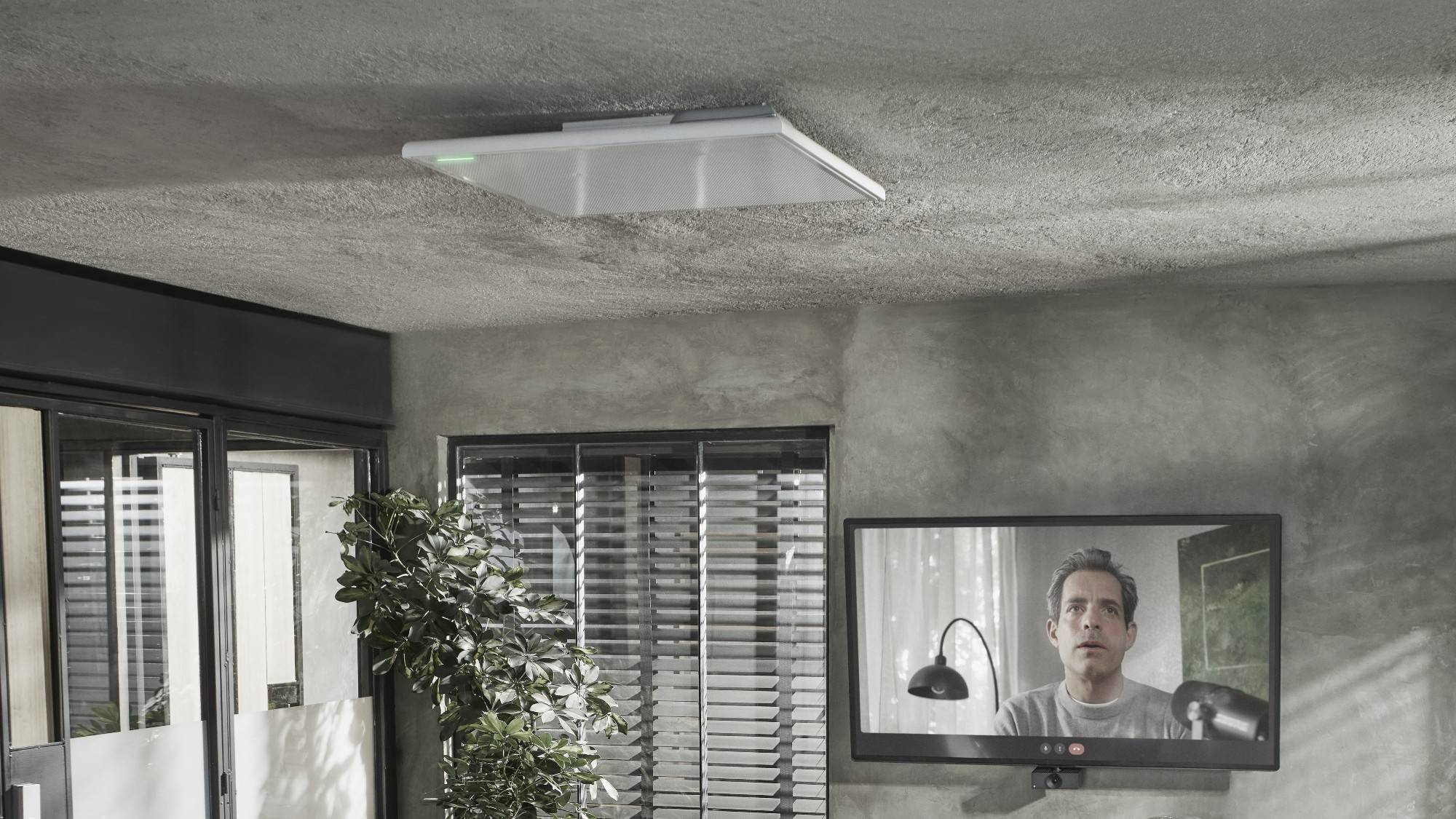 Shure MXA902 Features & Benefits
Optimized Audio Capture and Reproduction
The MXA902 has a high-tech array microphone that can capture voices from specific directions. This eliminates the need for extra microphones or extensions, making the setup process easier and ensuring that everyone's voice is accurately reproduced during meetings. Furthermore, the built-in loudspeaker has a wide dispersion, resulting in clear and natural speech from all participants. When combined, these features create an immersive environment that promotes effective collaboration.
Seamless Setup and Intelligent Control
At Shure, we know that setting up a conference room should be simple and efficient. That's why we designed the MXA902 to be easy to configure right out of the box, so you can save installation time and effort. Our Single Zone Automatic Coverage Technology ensures that the MXA902 captures speakers' voices and reduces background noise, giving you the best sound quality in a 20' x 20' space. This intelligent feature creates a balanced meeting environment where everyone can be heard clearly.
Pristine Audio Mix with IntelliMix DSP
The MXA902 from Shure boasts the IntelliMix DSP, which enhances the conferencing experience with its advanced features. With Automatic Gain Control, Acoustic Echo Cancellation, Noise Reduction, and Automatic Mixing, the MXA902 delivers outstanding audio quality. The DSP capabilities ensure excellent clarity, reduce echo and background noise, and provide both in-room and remote participants with a balanced sound. Shure's commitment to exceptional audio quality is evident in the impressive performance of the MXA902.
Security and Design Excellence
Shure understands the worries of organizations when it comes to audio privacy. That's why they've integrated top-of-the-line Shure Audio Encryption into the MXA902. This advanced encryption technology guarantees the safety of audio content within the Shure Microflex Ecosystem, providing reassurance for confidential meetings and sensitive discussions.
In addition, the MXA902 has a contemporary and elegant appearance that seamlessly complements various architectural styles. It can be used with accessory kits from the MXA900 series, offering a versatile mounting system suitable for different ceiling types, making installation easier while preserving aesthetics.
Looking to the Future: This product provides top-quality audio for smaller to mid-sized rooms, benefiting IT administrators and end users.
In today's world, hybrid work models have become increasingly popular, making it crucial for businesses to have effective and trustworthy conferencing solutions. Shure's Integrated Conferencing Ceiling Array, identified as MXA902, is designed to meet this need by offering a complete audio solution that turns meeting rooms into collaborative spaces. Its advanced capabilities, easy installation process, and exceptional sound quality set a new benchmark for conferencing audio solutions.
The MXA902 will be displayed for demonstrations at InfoComm 2023, or you can learn about it now here: www.shure.com/mxa902
Creation Networks can help your organization implement AV solutions, Crestron control and LED videowall technology for your organization. Across California and nationwide, we design, install, and program state-of-the-art AV systems. Contact Us Today