The demand for return-to-office technologies has reached an all-time high, with businesses striving to establish hybrid work strategies and ensure a safe and effective transition back to physical workspaces. Cisco, a leading player in video-based communication tools, recognizes the challenges faced in this endeavor and has been diligently evolving its Webex offering. In a groundbreaking move, Cisco introduces the Webex Suite, a comprehensive platform that addresses the complex demands of future collaborative work environments. This article explores the key features of Webex Suite, Cisco's competitive pricing strategy, and its potential impact on organizations.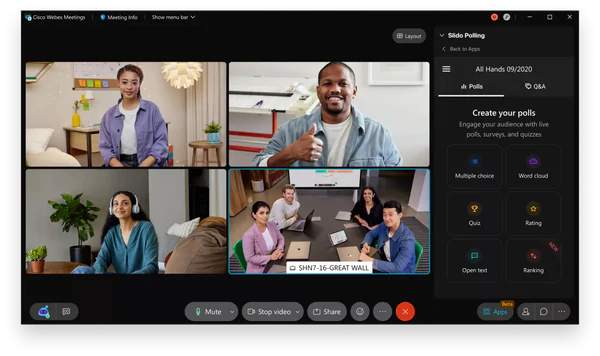 The Power of Integration:
Webex Suite marks a significant step forward for Cisco, encompassing a range of features that merge the video-based meeting, calling, and messaging functionalities of Webex with the interactive collaboration tools of Slido and the event-focused capabilities of Socio. By integrating these elements into a single experience, Cisco empowers organizations to unlock new levels of productivity and engagement. Additionally, this momentous launch is accompanied by a fresh, eye-catching logo for Webex, signaling the company's commitment to a comprehensive marketing campaign.
Affordable Hardware Solutions:
Recognizing the importance of both software and hardware in video-based communication, Cisco has taken a customer-centric approach by reducing prices on its hardware devices. The company's videoconferencing-enabled hardware, designed for cloud-based users of the Webex Suite, has seen significant price cuts. For instance, the Webex Desk, a sleek all-in-one PC with a 23" screen, now comes at a much more affordable $1,249, down from its original price of $2,495. Similarly, the Room Kit Mini system, ideal for small meeting rooms, has been reduced from $3,190 to $1,499. These price reductions are a game-changer, particularly for organizations seeking to equip their meeting spaces with video conferencing capabilities.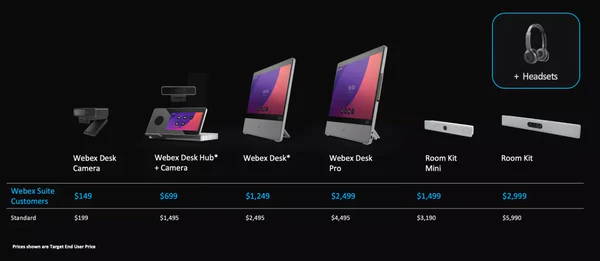 Unlocking Meeting Room Potential:
While the price reductions may appear to be mere cost-saving measures, they hold immense significance for organizations aiming to facilitate high-quality video-based meetings. Cisco asserts that 98% of all future meetings will involve at least one remote participant, indicating a crucial need for well-equipped meeting spaces. However, it is estimated that less than 10% of meeting rooms in even the most technologically advanced organizations currently possess video conferencing capabilities. This indicates a substantial market for videoconferencing-enabled hardware, reinforcing the significance of Cisco's aggressive pricing strategy. Furthermore, Cisco's commitment to adding support for popular platforms like Zoom Rooms, Google Meet, and Microsoft Teams Rooms demonstrates their dedication to addressing the multi-platform needs of businesses.
Enhanced Software Capabilities:
Cisco's software offering, Webex Suite, incorporates the capabilities of Slido, revolutionizing audience engagement and collaboration. This integration sets Webex apart from its competitors, as none of the other platforms offer such comprehensive capabilities. Moreover, the pending Socio acquisition empowers Cisco to deliver a wide range of digital event-focused features, positioning Webex as the go-to platform for large virtual events. Virtual events are projected to remain a key aspect of our future due to their cost-effectiveness and broad reach. Organizations that embrace virtual events will find Cisco's suite of tools invaluable in organizing and running such events smoothly.
Audio Quality and Security:
Building upon their acquisition of BabbleLabs, Cisco has enhanced the audio quality of Webex. Leveraging clever AI-based technologies, background noise can be eliminated, and clarity can be enhanced, even in low-bandwidth situations. This feature is highly sought after by end-users who value crystal-clear audio experiences. Moreover, Cisco has focused on bolstering the security of Webex by offering end-to-end encryption with verified ID, addressing concerns related to privacy and call hacking.
The challenges surrounding the return-to-work transition extend beyond the capabilities of collaboration tools alone. However, organizations will undoubtedly continue to rely on communication tools like Webex as they navigate these complexities. Cisco's introduction of the Webex Suite, a comprehensive platform with integrated features, comes at a pivotal time. By streamlining collaborative work and offering competitive pricing on videoconferencing-enabled hardware, Cisco empowers organizations to embrace the future of hybrid work with confidence. As businesses tackle the intricacies of returning to physical workspaces, Webex Suite's capabilities will play a pivotal role in driving success and productivity in the new era of collaborative work.
Read More about Teams Rooms and Cisco WebEx
Creation Networks can help your organization implement AV solutions, Crestron control and LED videowall technology for your organization. Across California and nationwide, we design, install, and program state-of-the-art AV systems. Contact Us Today