The Neat Bar Pro is a sleek and sophisticated device that is packed with advanced technology. It can effortlessly drive up to three large screens, providing a clear view of people and content. With exceptional audio and video quality, it delivers a natural and immersive meeting experience, no matter where you are.
The Neat Bar Pro advanced 4K, all in one video conferencing device is a remarkable addition to the professional audio-visual market, offering a comprehensive solution for high-quality video conferencing experiences. Designed by Neat, a reputable brand known for its cutting-edge audio-visual solutions, the Neat Bar Pro boasts an array of features that enhance communication and collaboration in the modern business environment. This review will delve into the device's pros, cons, and notable features and compare it to other technologies on the market.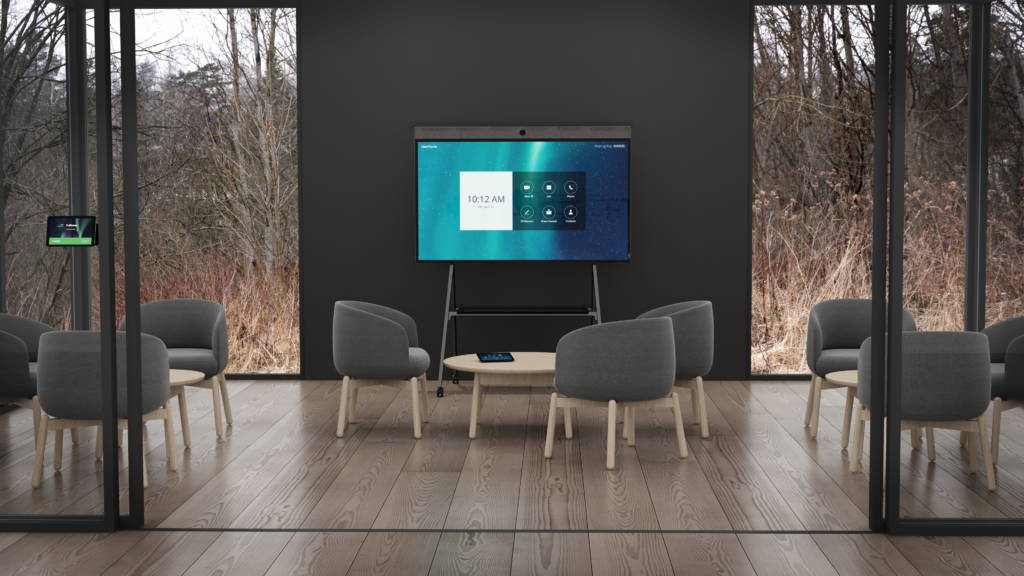 Sleek Design: The Neat Bar Pro is sleek and elegant, making it a visually appealing addition to any meeting room or conference space. Its slim profile and premium build quality exude professionalism and sophistication.

Advanced Camera Technology: Equipped with an advanced 4K Ultra HD camera, the Neat. Bar Pro delivers exceptional video quality, ensuring crystal-clear visuals for all participants. The camera also features a wide-angle lens, enabling it to capture a larger field of view, making it ideal for larger conference rooms.

Intelligent Speaker System: The built-in speaker system of the Neat. Bar Pro is intelligently designed to provide immersive audio experiences during video conferences. It utilizes advanced noise-cancellation technology, ensuring clear and crisp sound, even in noisy environments.

Microphone array: With its advanced pyramid-shaped 16x microphone array, this device guarantees clear vocal pick-up. Additionally, the Neat Audio Processing technology eliminates any garbled speech or background noise issues.

Easy Installation and Integration: Setting up the Neat.bar Pro is a breeze, thanks to its straightforward installation process. It seamlessly integrates with popular video conferencing platforms such as Zoom, Microsoft Teams, and Google Meet, offering a hassle-free experience for users.

Intuitive User Interface: The device features a user-friendly interface, allowing users to control and manage video conferences effortlessly—the Neat. Bar Pro's interface provides convenient access to essential functions, including mute/unmute, camera control, and volume adjustment.

Intelligent Auto Framing: One of the standout features of the Neat. Bar Pro is its intelligent auto-framing capability. The device automatically detects and frames participants in the conference room using advanced AI algorithms, ensuring everyone is prominently visible without needing manual adjustment.
Price: The Neat. Bar Pro falls into the higher price range of video conferencing devices, which might be a deterrent for budget-conscious buyers or smaller businesses. However, its feature set justifies the investment for organizations seeking a premium conferencing solution with great features.

Limited Pan/Tilt Control: While the Neat. Bar Pro offers excellent 4K camera quality and auto framing but lacks manual pan/tilt control options. This limitation might be a drawback for larger rooms that require more granular control over camera positioning.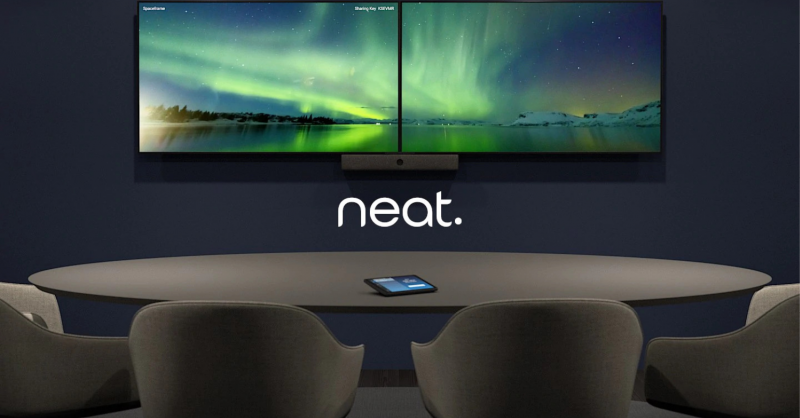 Neat Bar Pro Notable Features
NeatSense Technology: The Neat.bar Pro incorporates Neat's proprietary NeatSense technology, which intelligently adjusts camera settings and speaker volume based on the meeting room's lighting and acoustic conditions. This ensures optimal performance and an immersive conferencing experience.

Virtual Whiteboard Integration: The device offers seamless integration with virtual whiteboard applications, allowing users to collaborate, brainstorm, and share ideas effectively during video conferences. This feature enhances productivity and fosters interactive discussions.

Wireless Content Sharing: With the Neat.bar Pro, users can wirelessly share their screens or presentations during video conferences, eliminating the need for cumbersome cables and enhancing convenience.
Comparison to Other Technologies
When we at Creation Networks compare the Neat.bar Pro to other video conferencing devices on the market; it stands out in several aspects. Notably, its intelligent built in camera auto framing sets it apart from many competitors, ensuring participants are always in the frame without manual adjustment. The advanced 4K Ultra HD camera and NeatSense technology further contribute to its superior video quality and overall performance. The Intelligent Speakers provide noise canceling and advanced DSP features not often found at this quality level in this market.
In terms of design, the Neat.bar Pro rivals the aesthetics of popular competitors, such as the Logitech MeetUp and Poly Studio X30. However, it surpasses them with its intelligent speaker system, virtual whiteboard integration, and wireless content-sharing capabilities, providing a more comprehensive solution for professional video conferencing needs.
In conclusion, the Neat bar Pro video conferencing device impresses with its sleek design, advanced camera technology, intelligent speaker system, and user-friendly interface. While it may come with a higher price tag and limited pan/tilt control, its remarkable features, including intelligent auto framing and seamless integration with virtual whiteboards, make it a top choice for businesses seeking a high-quality and immersive video conferencing experience. The Neat.bar Pro positions itself as a competitive offering in the market, combining functionality, aesthetics, and ease of use for productive and engaging virtual meetings.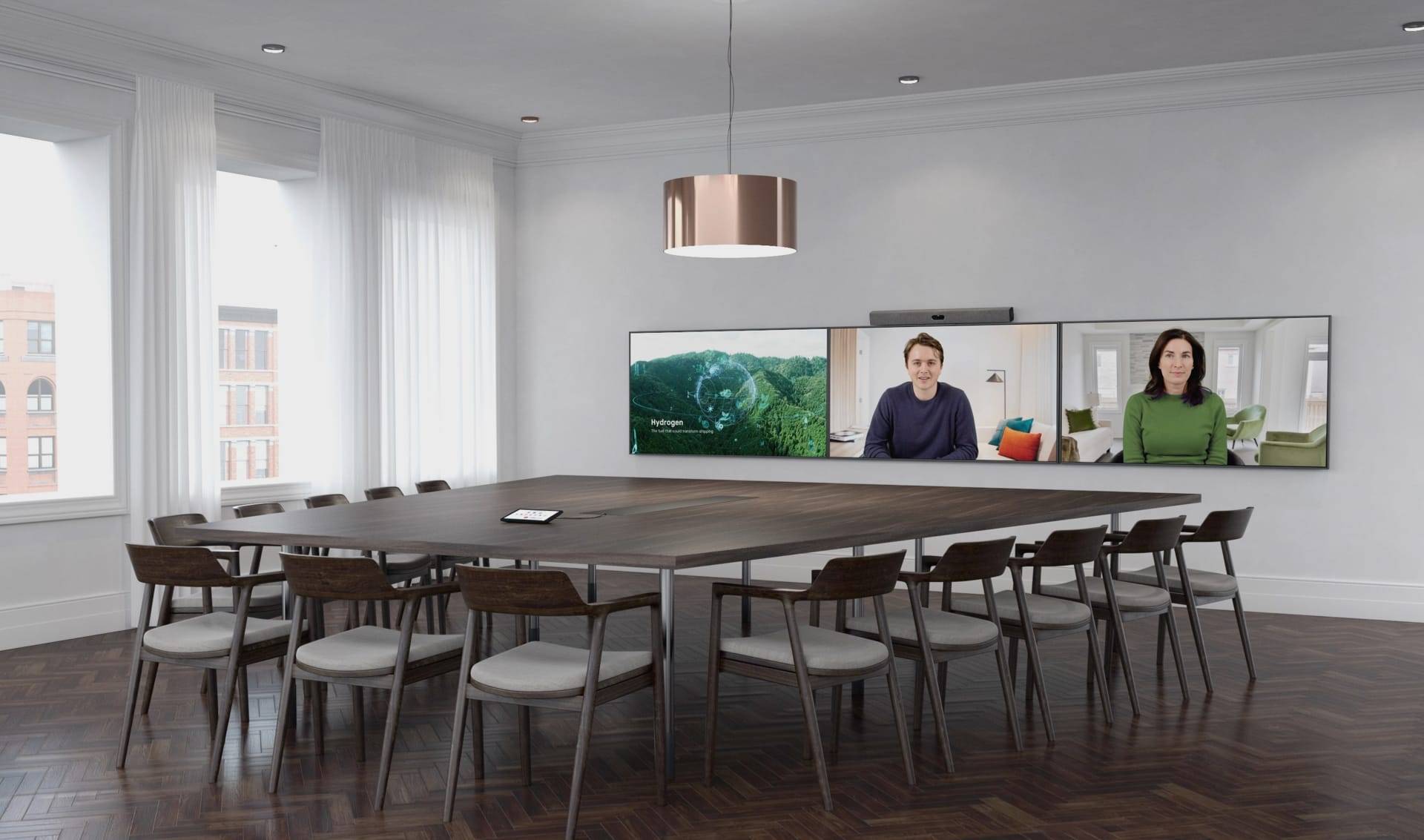 Creation Networks can help your organization implement Neat AV solutions, Crestron control and LED videowall technology for your organization. Across California and nationwide, we design, install, and program state-of-the-art AV systems. Contact Us Today
SUBSCRIBE TO OUR NEWSLETTER
Recieve our latest weekly releases, offers, guides and more.