ProAV Cafe / Break Room Design Guide
Next-generation products, available from Creation Networks, will change the way you work and connect.
60' x 109' | 6,540 SF

Seats: 300+
Technology:
$110,000 - $180,000
Furniture:
$125,000 - $175,000
Please note: All pricing is conceptual and is based upon the wide range of product choices available. In addition, each space has unique considerations; acoustics, buildout, labor costs, infrastructure etc.…
---
The Café Break Room is designed for organizations that need a large-scale multi-purpose space for a large employee group. Dining, socializing, meetings and presentations are accommodated with a variety of settings like café tables, booths, and group tables with various seating postures.
---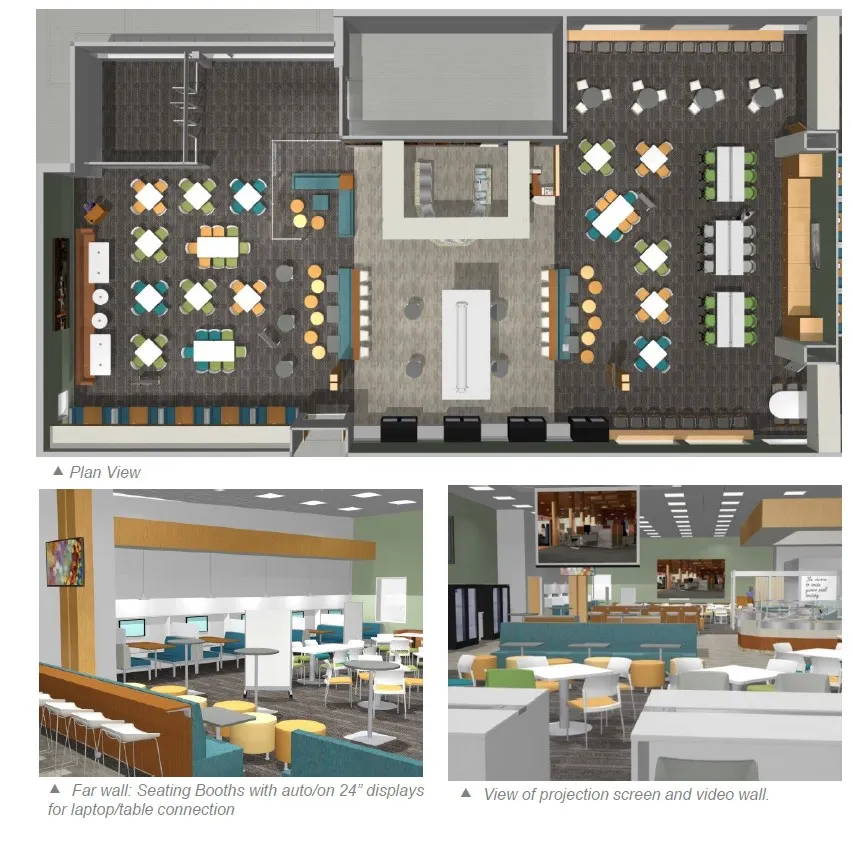 In this expansive group setting, the dvLED video wall display is 136" and is the centralized hub for visual content, supported by two sets of dual 55" displays on both sides of each column and a single 98" display.
During large formal presentations, the projector and 180" diagonal motorized screen will provide an additional visual reference in the center of the space.
Distributed content can include 3 Cable tuners, Network Audio Music, digital signage sources, and laptop computers. A wall-mounted touch panel or iPad can select any source to be viewed on one or more displays. There are five seating booths, each with a dedicated 32" display to connect a personal device to share content.
Cable audio will be heard at low volume through the space, voice reinforcement and computer audio are distributed through recessed ceiling speakers when required. An assistive listening system provides audio support for people who are deaf or hard of hearing.
---
Do you have questions about ProAV Cafe Break Room Technology Services? Have a Creation Networks AV Technology expert reach out to you during our business hours.
Technology Solutions and Services Focused on Your Needs
We provide industry-leading expertise and a customer-centric approach help you design and deploy audiovisual technology solutions and services for your unique environment.