ProAV Team Studio Design Guide
Next-generation products, available from Creation Networks, will change the way you work and connect.
18.5' x 24' | 444 SF

Seats:
8-16
Technology:
$30,000 - $55,000
Furniture:
$25,000 - $55,000
Please note: All pricing is conceptual and is based upon the wide range of product choices available. In addition, each space has unique considerations; acoustics, buildout, labor costs, infrastructure etc.…
---
The Team Studio is designed for generative collaboration, ideal when teams are working together for extended periods of time, not only reviewing, and sharing content, but brainstorming and generating ideas.
 
The wall mounted dual 98" displays at one end are ideal for video conferencing while sharing content. Flanked by a 75" touch screen, the space provides multiple destinations to share content and the wall-to-wall whiteboard gives participants a way to engage, interact and edit/augment ideas on the fly. The split table is designed to allow people to easily transition from the table to the whiteboard areas.
 
The stool height seating also supports standing, perching and moving from various locations within the space and there is HD videoconferencing integrated for remote team collaboration as well.

Cable management is delivered into the furniture through the base which prevents any unsightly wires along the floor and minimizes trip hazards.
 
The room scheduling system allows scheduling of the studio in advance or on the fly.
---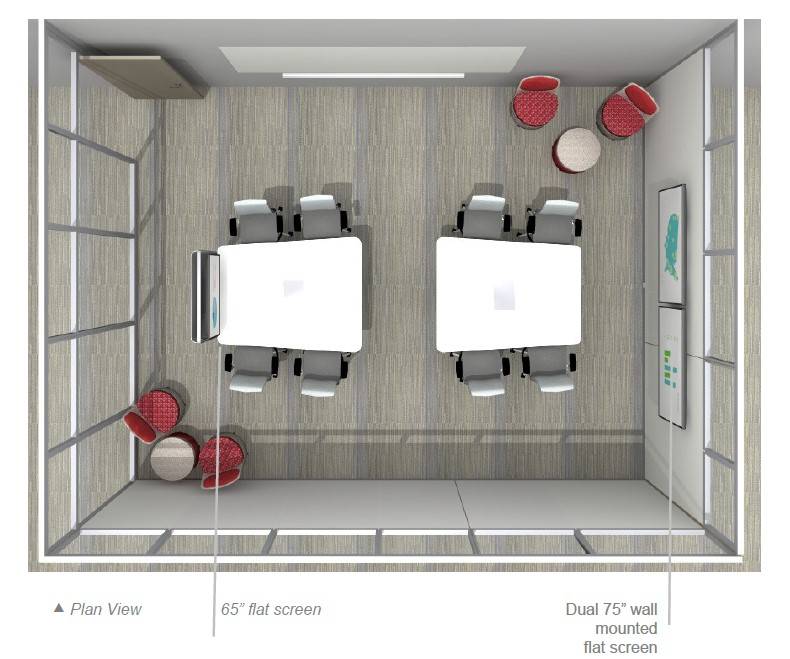 Do you have questions about ProAV Team Studio Technology Services? Have a Creation Networks AV Technology expert reach out to you during our business hours.
Technology Solutions and Services Focused on Your Needs
We provide industry-leading expertise and a customer-centric approach help you design and deploy audiovisual technology solutions and services for your unique environment.