Among NewTek's latest innovations is the TriCaster 1 Pro, which offers a balance between capability and cost, as well as the next generation TriCaster 2 Elite, which offers even more powerful features out of the box.
NewTek, the IP-based vide
o technology manufacturer and part of the Vizrt Group, has launched the Tricaster Pro 1, adding to the existing Tricaster range.
There are a number of features included in the new product, including support for switching between 4K and UHD, live streaming, recording, data-driven graphics, virtual sets, media publishing, and a number of other features.
As well as the release of the Tricaster Pro 1, NewTek has announced that there will be new features available on both the Tricaster 1 Pro and Tricaster 2 Elite, including the ability to integrate software and IP networks, to offer the most comprehensive integration of NDI to date.
It is now possible for operators to send Alpha Channel through one of the MIX outs, bringing post-production closer to the live stage. It is also possible to use the keying on TriCaster to feed graphics or to use tools to create 3D animations in real time.
It should be pointed out that remote guests are now able to join conversations through video input, using the latest version of Live Call Connect, which supports a wide range of video communication applications, such as Microsoft Teams, Zoom, Facebook Messenger, and FaceTime, which can be accessed through the latest version of Live Call Connect. You can also use your mobile device as a live production camera through the use of the NDI TriCaster Camera App, which is available for free for Apple and Android devices.
The Neural Voice Isolation tool is also capable of canceling background noise from any source and allows for better audio quality.
"Today's producers have to keep up with an insatiable demand for video content while maximizing flexibility," said Will Waters, NewTek's Head of Product Management.
"TriCaster offers the only complete set of production tools while focusing on efficiency and flexibility only available through combining IP networking and software-defined solutions. The TriCaster 1 Pro is a welcome addition for the storytellers that need robust remote calling but don't require an extreme quantity of sources and destinations. The update to the TriCaster 2 Elite serves to cement its position as a transformative platform that truly takes video production to another level."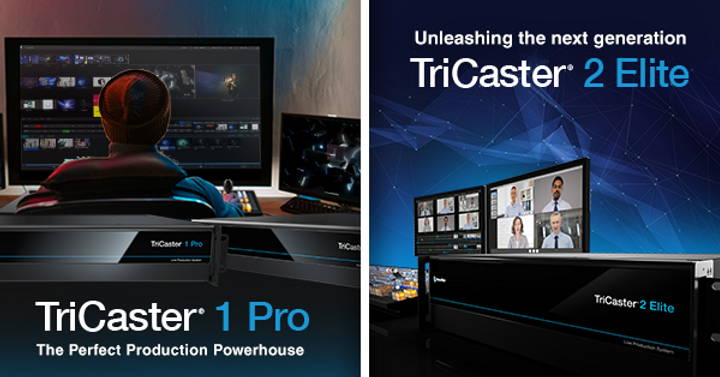 What's New in the Tricaster 2 Elite?
There has been no doubt that since the TriCaster 2 Elite was released in July 2020, it has been celebrated as a system that is setting a new standard for how much can be accomplished with a single media distribution system. This TriCaster 2 Elite has been upgraded to become the flagship product of the TriCaster series with powerful production enhancements including:
Selectable audio and video return for Live Call Connect applications including the addition of Facebook Messenger, WhatsApp, and Facetime.

Global and Local variable support in the macro engine gives operators the ability to use logic statements when automating complex operations.

Neural Voice Isolation to cancel out unwanted noise and background sounds from the voice in the audio mixer.

Feedback in the input windows for framerate and resolution information even on NDI sources

LivePanel™ built directly into the user interface, allowing each event to have truly customized control

Alpha channel is available on NDI outputs which are useful for sending keyed sources to other devices or real-time 3D creation tools like Unreal Engine.

NDI Genlock and much more
The latest software update for TriCaster 2 Elite cements its position as a transformative platform that truly takes video production to a whole new level. All existing users of NewTek TriCaster 2 Elite have the option to download the free TriCaster 2 Elite update right now.
What makes the Tricaster 1 Pro a Production Powerhouse?
There are many live productions where robust remote calling is critical, but there is not necessarily the need for a lot of sources and destinations, which is why the TriCaster 1 Pro is a welcome addition.
TriCaster 1 Pro is an ideal tool for medium-sized productions. Whether it is SDI or Audio I/O, or a multiviewer, it offers plenty of connectivity options not only through the powerful 10G network interface, but also directly through dedicated ports for anything from SDI to audio.
There are a number of advanced features that are included in the TriCaster 1 Pro that will make it a favorite of mid-size producers, including 4K UHD switching, live streaming and publishing, live call connection, live story creator, graphics, live panels, alpha channel outputs, advanced macros, recording, data-driven graphics, virtual sets, media publishing, and more that come standard with the TriCaster 1 Pro.
In terms of production, delivery, and management of content, there is no other live production solution in its class that offers comparable capabilities.
NewTek TriCaster 1 Pro is available now at $21,995 US MSRP
The NewTek TriCaster 2 Elite update is free and available to download now for all existing TriCaster 2 Elite users. TriCaster 2 Elite is available now at Creation Networks

Top 10 reasons to switch to the NewTek TRiCaster 1 Pro
Why should I switch to using NewTek TriCaster 1 Pro?
Versatility: The NewTek TriCaster 1 Pro is a powerful all-in-one video production system allowing you to create professional-quality content for various media formats, including live streaming, broadcast, and web broadcasts.

Flexibility: It offers a wide range of input and output options, including support for multiple cameras, laptops, and other sources, which means you'll be able to create content in a wide range of formats and resolutions with the TriCaster 1 Pro.

Simplicity: TriCaster 1 Pro has been designed for ease of use, with a simple and intuitive interface, making it easy for you to switch between inputs and control various aspects of your production with this tool.

Reliability: The TriCaster 1 Pro is designed to withstand the demands of live production, with robust hardware and software that ensures your content is delivered continuously without interruption.

Scalability: Regardless of the size of your production, the TriCaster 1 Pro can be easily upgraded with additional inputs, outputs, and features to meet the demands of any production.

Live Streaming: TriCaster 1 Pro includes live streaming support, so you can reach your audience in real-time, no matter where they may be in the world.

Professional Quality: The TriCaster 1 Pro has advanced features like a chroma key, virtual sets, and motion graphics to give you the tools you need to create professional-quality content at your fingertips.

Integration: There is a variety of third-party software and hardware that can be integrated with the TriCaster 1 Pro. By doing this, you can expand its capabilities and customize it to meet the specific requirements of your business.

Cost-effective: In terms of video production, the TriCaster 1 Pro provides a comprehensive solution that eliminates the demand for multiple pieces of equipment and software that is expensive, making it a cost-effective choice.

Support: To make the most of your TriCaster 1 Pro, NewTek offers a variety of resources and support options, including tutorials, FAQs, and a community forum for you to use.
Creation Networks can help your organization implement AV solutions, Crestron control and LED videowall technology for your organization. Across California and nationwide, we design, install, and program state-of-the-art AV systems. Contact Us Today
Read More about other steaming solutions
SUBSCRIBE TO OUR NEWSLETTER
Recieve our latest weekly releases, offers, guides and more.