CRESTRON AV-OVER-IP PREFERRED PARTNER PROGRAM
PROVIDING AV-OVER-IP TECHNOLOGIES AND INFRASTRUCTURES FOR EVERY TYPE OF ENVIRONMENT
Creation Networks has been recognized as a Crestron AV-over-IP preferred partner. Creation Networks provides Crestron DM NVX AV-over-IP solutions to distribute content for every type of organization–flawlessly and securely. Within federal spaces, schools, corporate meeting rooms, court systems, hotels, and airports, users are increasingly demanding AV technologies and services that are as simple and easy to use. Customers want to have systems that are flexible, manageable, scalable, and easy to implement. By transmitting the signals over the LAN network, DM NVX technology allows for the complete integration of the company's systems within an IT environment that guarantees speed, flexibility, and absolute quality. Different designs. Different infrastructures. One solution — DM NVX.
THE FUTURE OF AV INTEGRATION IS CRESTRON NVX
Creation Networks team's knowledge and skills allow us to design solutions and implement technologies like Crestron's DM NVX, which allow for the optimal distribution of all the AV signals via LAN Switching. The DM NVX family of components thus allows for the transmission of Audio, Video, USB, and Control signals over Gigabit Ethernet in a secure and protected manner, using authentication protocols and encrypting all the processed data. The replacement of the old traditional infrastructures and the convergence of the AV signals on the existing IT network simplifies the installation process, reduces costs, helps ensure flexibility and future scalability, and keeps operating and integration costs low. Since the NVX devices are extremely small, they can be easily installed behind a professional display like an HDbaseT extender. The systems can be powered via a traditional power supply or POE (UPOE standard compatible).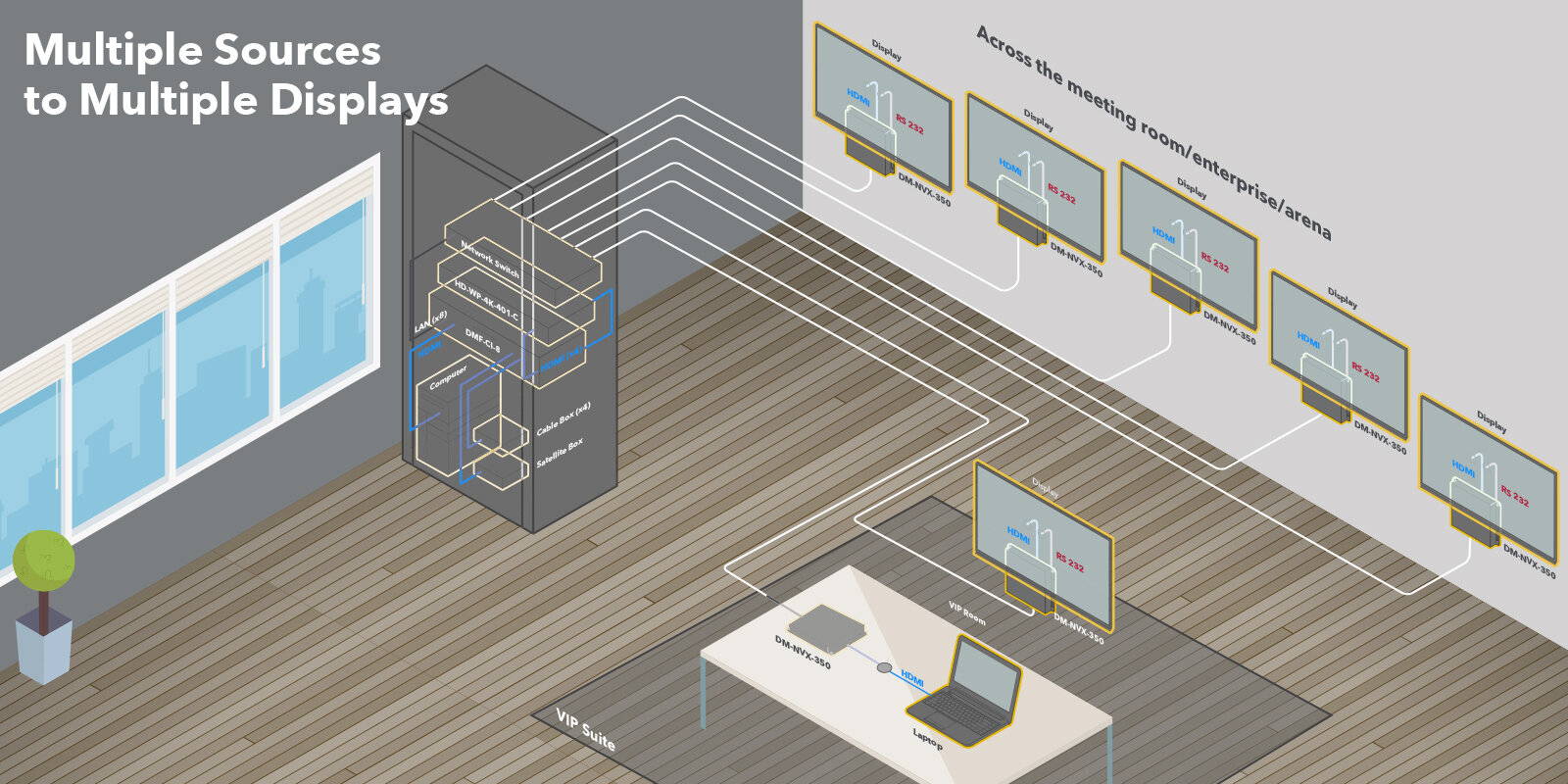 The standards you use. The interoperability you want.
Creation Networks works with companies today that are using more and more multimedia content, and there's a widespread need to share files, images, and videos over various devices in order to give presentations, provide video conferencing, and collaborate in company meetings or training sessions. DM NVX works with industry standards, so you can achieve whatever you want. The goal of implementing AV-over-IP solutions is precisely to share the same network infrastructure via a single platform in order to allow users to share content with speed and flexibility. In fact, DM NVX provides for efficient bandwidth use, zero signal transmission latency, and exceptional AV quality.
Providing Secure Multi-layer technology.
Multi-layered technology ensures that all content (not just some of it) is routed through a single wire. A platform that delivers greater flexibility and efficiency.
Creations Networks system designs for AV-over-IP technology are based on Crestron DM NVX standards-based ecosystem of endpoints designed to work with your network and security protocols. One platform that delivers flawless video, audio, USB, and control. Your network. Your security protocols. Every endpoint is built to the highest levels of security. In fact, DM NVX is the only AV-over-IP solution to achieve the highest level of security certification from the US Department of Defense–from FIPS to JITC and currently in NIAP evaluation.
VIDEO ROUTING
Deliver perfect content every time. The finest detail can be revealed in the densest image. Technology so advanced, you won't be able to tell the difference between DM NVX and direct source. The supported video resolutions reach up to 4096x2160@60Hz (4K60), with 4:4:4 color sampling, and HDR10 color depth. The video scaler is built-in, and, in addition to the streaming rate, it's even possible to manage the physical inputs and outputs.
AUDIO DISTRIBUTION
Route any audio signal on the network. Each DM NVX endpoint can be configured to accept any stream on the network, providing infinite flexibility. Route audio independently of video, making sharing the right content to the right place simple. The audio can be extracted or input into the video stream, depending on the requirements.
USB 2.0
DM NVX routes USB anywhere on the network seamlessly allowing for efficient system design. USB routing is bi-directional, allowing full-duplex communication between devices on both ends of the network. USB signals can be routed independently of audio and video within each unit.
SYSTEM & DEVICE CONTROL
All NVX devices are processor controlled via the Ethernet network and are even equipped with RS232 and IR ports in order to allow these communication ports to be used as extensions of the Crestron processors. DM NVX endpoints can power displays on and off depending on the detection of an active video stream. Configuration is simple via the web interface.
Learn More about the New DM NVX Release for 2022. See Post
Your every need met. Your every expectation exceeded.
SUBSCRIBE TO OUR NEWSLETTER
Recieve our latest weekly releases, offers, guides and more.