Building an esports facility at Central Connecticut State University
Author: George Claffey
Chief Information Officer, Central Connecticut State University
Esports: An interdisciplinary approach
In 2019, the Central Connecticut State University (CCSU) funded a proposal from the Dean of the School of Education and Professional Studies and the Chief Information Officer to construct an esports center on campus. This space, in the center of campus with windows facing the main courtyard, was in demand. Many people asked, why esports? What is esports? How will this help our students?

After approximately 65 days, the transformation was complete and the CCSU Esports Center opened to an excited crowd of students, faculty, and staff. The pandemic forced a shutdown in March 2020, and the center resumed operation in September (2021). The value of esports is even clearer now than it was on opening day.
Start and finish with students
CCSU had a thriving "gaming and esports" club team of approximately 190 members in 2019. What started in one student's dorm room had gradually transitioned. In 2019, it had evolved into two or three classrooms converted on a Friday or Saturday evening with pizza, board games, and students bringing in their gaming desktops into a classroom and construction of a make-shift network so they could compete together. The students' passion was overwhelming.

We approached them about the concept of a dedicated space, and they were "all in." The university greatly appreciated the esports club's commitment throughout the summer demoing keyboards, monitors, and other components that would be part of the room install. It was great to work with this group as they evaluated what would be good for the "serious gamer" versus less intimidating technology for first-time gamers. From ADA compliant controllers to interchangeable peripherals, our student club was deliberate and purposeful researching, testing, and recommending devices.

Shortly after the center's launch, the club team and new varsity teams grew to over 320 students, almost doubling from the exit of the Spring '19 semester. One of the main takeaways was that the Esports Center created a true bond between our residential students and commuters. Previously, commuters were less likely to unhook their computers, drive it to campus and participate in the pre-2019 esports activities. Now, they have access to robust hardware and an easy and convenient location to use it. They also have a space purpose-built for game play. Appreciating that "keyboard and mouse controller" esports might be intimidating to the casual user, the university created a "console alley" within the Esports Center which features Xbox®, PlayStation®, and Nintendo® systems. There's a good chance that if you walk into the Esports Center, you will see at least one familiar type of game system.
Interdisciplinary by design
From conception, CCSU's vision was not just to build a gaming room, but to build our next generation classroom, gaming space, recreational space, and competitive area. There is a similarity between high- end computational computers for data science, data analytics, and engineering and those needed for esports gaming.

Leveraging the Crestron DM NVX® solution, touch panels, and displays, our center can switch from a classroom to a varsity competition room in under 30 seconds. Using the same Crestron interface has allowed us to reduce the barriers to faculty who want to experiment in this space for one or two classes. Programmable macros and familiar interfaces make converting esports screens into PowerPoint® presentation viewers very easy.

This concept of rapid room changeover also exists between the club side sports and the varsity esports teams. The room can shift from a club-style competition to varsity scrimmage very quickly. From a technology standpoint, speeds and signal quality were large drivers in our equation. We knew the design we had on day one would likely evolve into a different design by month one, and so on. The DM NVX system allowed us to keep the 4k signal and offered enough speed that we could route the signal to a shout casting booth which we setup as part of our eSports room for play-by-play announcing. Two years later, we've made a few programming changes and created some new macros, but the technology has been well regarded by the students, faculty, and visitors.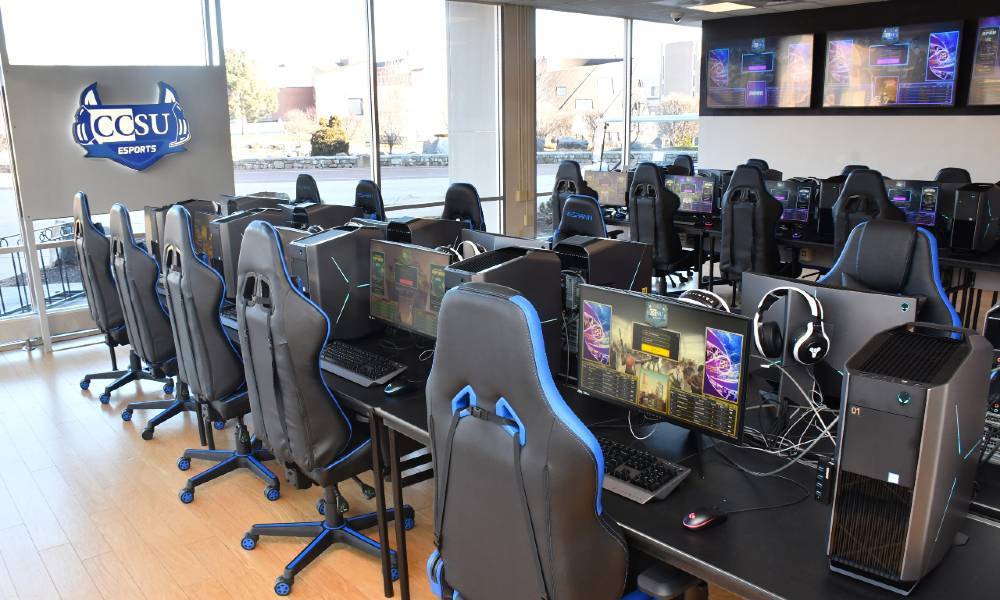 Information Technologies to Students during COVID
When COVID started, campus closed and like many institutions, CCSU pivoted to remote learning. In reopening campus, we used a phased-in approach, working with the university's COVID team and facilities staff to make sure that the spaces would offer air filtration, UV cleaning, and appropriate social distancing. Overwhelmingly, returning students wanted to know when will the esports room would reopen, and by mid-September, it was up and running.

For me, this showed the power of technology. More than GPU cycles, SSD Speeds, or refresh rates, the Esports Center facility is a physical location where students can be around like-minded individuals—peers, prospective and current friends, and perhaps teammates for a day, semester, or four years.

When the room reopened this fall, I was a daily visitor. The first week I saw two freshmen playing as part of a League of Legends game. When they finished, one commented to the other on how well they played, their skill, and their combined value in a match. They then introduced themselves to one another, learning they were both freshmen living in different dorms and set a day and time to play again. Making personal connections during COVID was impossible, so providing a space that helps generate these opportunities is gratifying.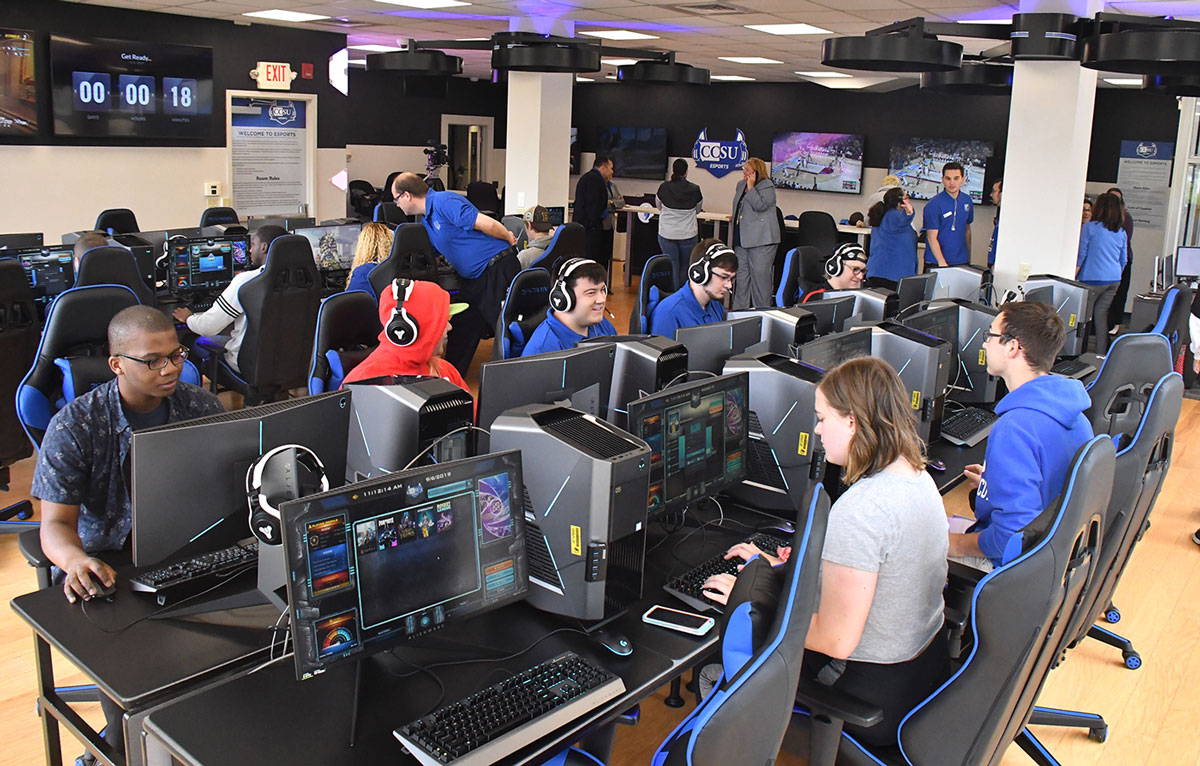 Esports: Opening the door to transformation
We are excited to have opened the esports space and are happy that current and prospective students see it as a place for instruction, fun, and competition. As I reflect on our journey from inception to reality, I think the process is just as important as the physical room and space. For our university, this was an interdisciplinary project which brought together academics, varsity competition, and recreational gaming. It is a room which united residents and commuters. It is also a space that is open late at night and during weekends providing students time to relax and take part in something they are passionate about. For our faculty, we've created a safe space to innovate and try something new. We've seen a significant increase in faculty requests to experiment with a simulation in VR, try to gamify their curriculum, or experiment in a virtual world. The academic side of the Esports Center has been seen as an incubator space for different technology often before it's ready to go into the mainstream classroom. Since opening the Esports Center, we've begun campus initiatives in XR and advanced business analytics, all which had their foundation in technology.
Read more: 5 ways to identify and win esports funding
SUBSCRIBE TO OUR NEWSLETTER
Recieve our latest weekly releases, offers, guides and more.