The recently renovated room boasts a standout feature - a brand new LED videowall. The videowall is equipped with Planar's TVF 1.2 screens and four Clarity Matrix MultiTouch screens.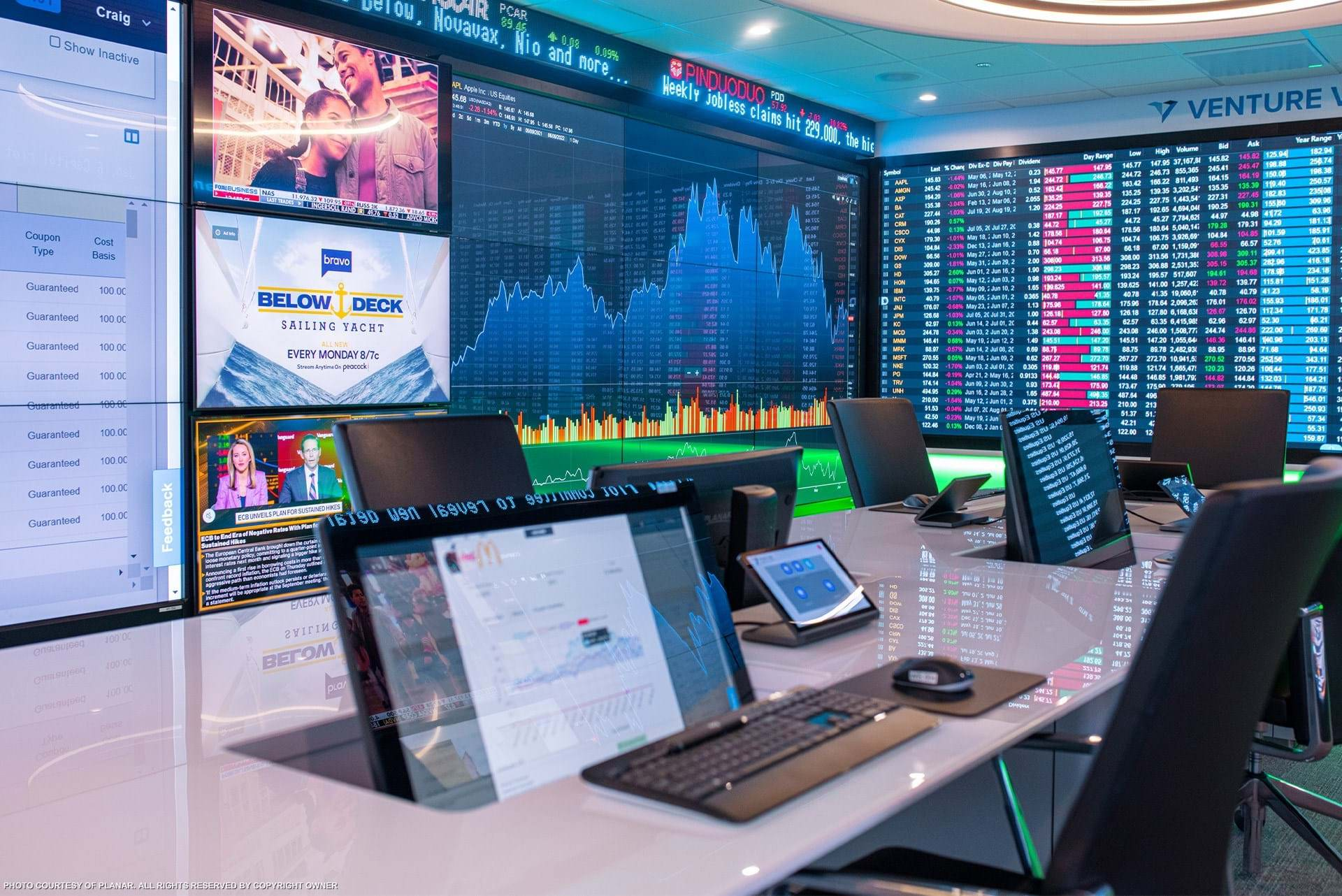 In the ever-evolving world of finance, staying ahead of the game requires innovative tools and dynamic workspaces. Venture Visionary Partners, a renowned financial advisory firm based in Sylvania, Ohio, has recently revamped its investment research lab with state-of-the-art interactive video walls. This exciting development is set to revolutionize the way investment opportunities are explored, planned, and analyzed within the company.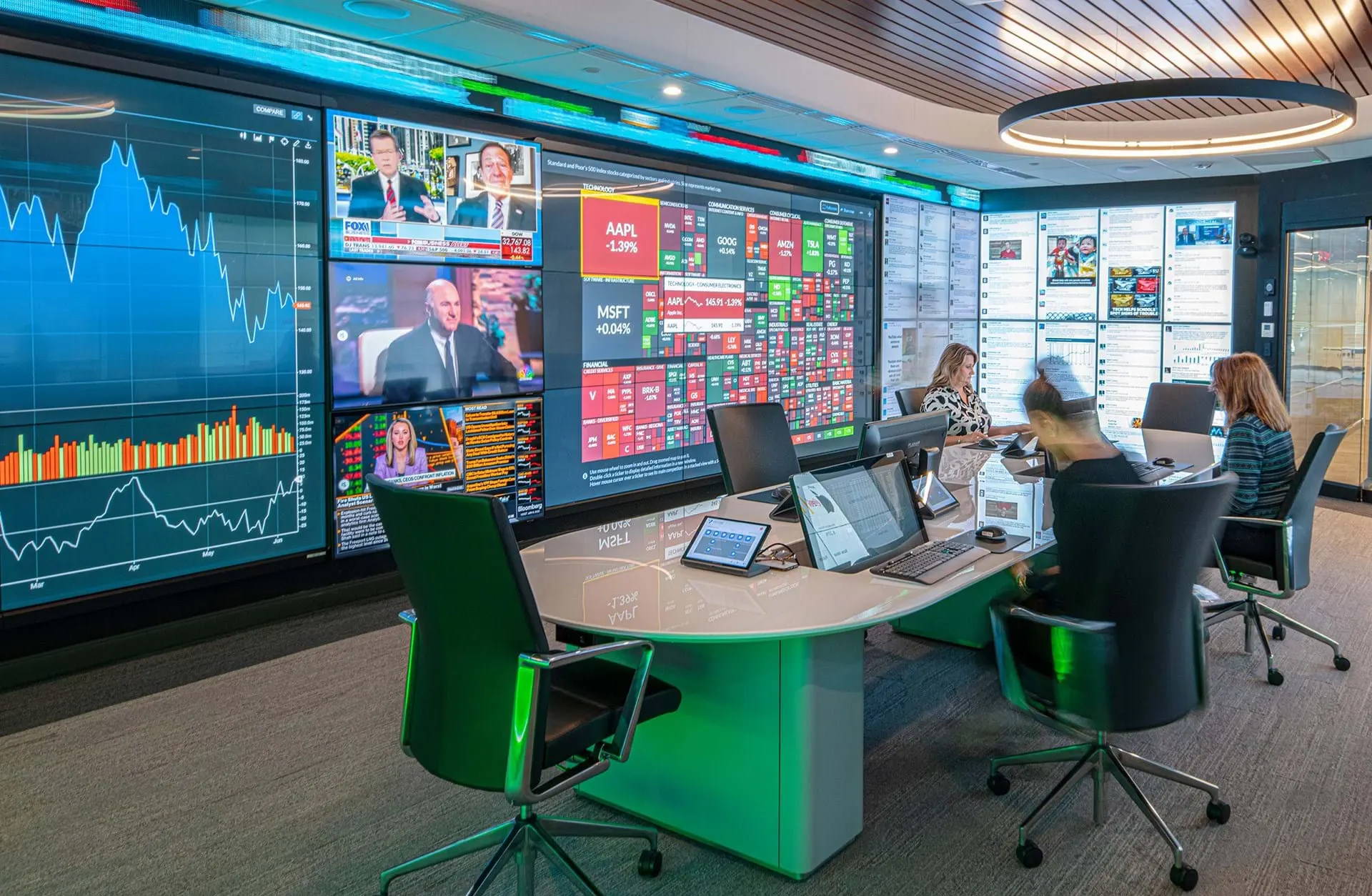 Unveiling the Future of Investment Research
At the heart of the renovated research lab lies an impressive LED video wall that boasts Planar's cutting-edge TVF 1.2 screens. Complementing this centerpiece are four Clarity Matrix MultiTouch screens, forming a harmonious blend of technology and collaboration. By harnessing the power of Planar Systems technology, Venture Visionary Partners has created a collaborative workspace that fosters seamless interaction and enhanced decision-making.
Venture Visionary Partners comprises a team of seasoned investment advisors, wealth managers, and financial experts with an impressive track record spanning over a decade. Under the leadership of President and CEO Craig Findley, the firm continuously seeks innovative ways to improve portfolio management and market research. Findley envisioned a dedicated space within the office that would facilitate comprehensive investment analysis and drive the company's growth.
Introducing Venture Visionary Lab
Enter the Venture Visionary Lab, a cutting-edge research space that leverages the power of interactive videowall technology from Planar. The focal point is a remarkable 9x5 LED video wall, spanning nearly 6 meters in length and 2 meters in height. Equipped with TVF 1.2 screens, this immersive display provides a visually stunning canvas for collaborative work. The Planar technology features a robust 32-point touch screen, ERO-Led technology for enhanced durability and optics, and a remarkable 1.2mm pixel pitch.
Enhancing Collaboration with Clarity Matrix MultiTouch
In addition to the impressive LED video wall, the Venture Visionary Lab incorporates four Clarity Matrix MultiTouch interactive LCD video walls. Configured in a 3x3 setup, each screen measures 3.6 x 2.3 meters and showcases the remarkable ERO-LCD Interactive touch planar technology. These interactive video walls create an engaging user experience, allowing investment researchers, planners, and analysts to collaborate seamlessly and efficiently.
Empowering Investment Analysis:
The integration of Planar's interactive displays within the Venture Visionary Lab has revolutionized the investment analysis process. Craig Findley explains how the proprietary filters and probability analysis are seamlessly integrated into the workspace. The video walls provide a versatile canvas for comparing investments, displaying content, and even drawing on top of it. Each workstation controls multiple screens, enabling side-by-side comparisons, while the touch technology allows for intuitive interaction, content sharing, and annotation.
Beyond Investment Analysis
The LED video wall stands as a distinctive element within the company, facilitating effective communication and collaboration. Leveraging the integrated videoconferencing capabilities, presentations and conferences can be conducted on the large screen, while the backside serves as an ideal space for dynamic content delivery. The possibilities are endless, offering a comprehensive platform for seamless communication and engaging presentations.
With the installation of interactive video walls powered by Planar Systems technology, Venture Visionary Partners has redefined the landscape of investment research. The newly designed collaborative workspace enables seamless collaboration, efficient analysis, and informed decision-making. Through their dedication to innovation, Venture Visionary Partners continues to lead the way in shaping the future of the financial advisory industry.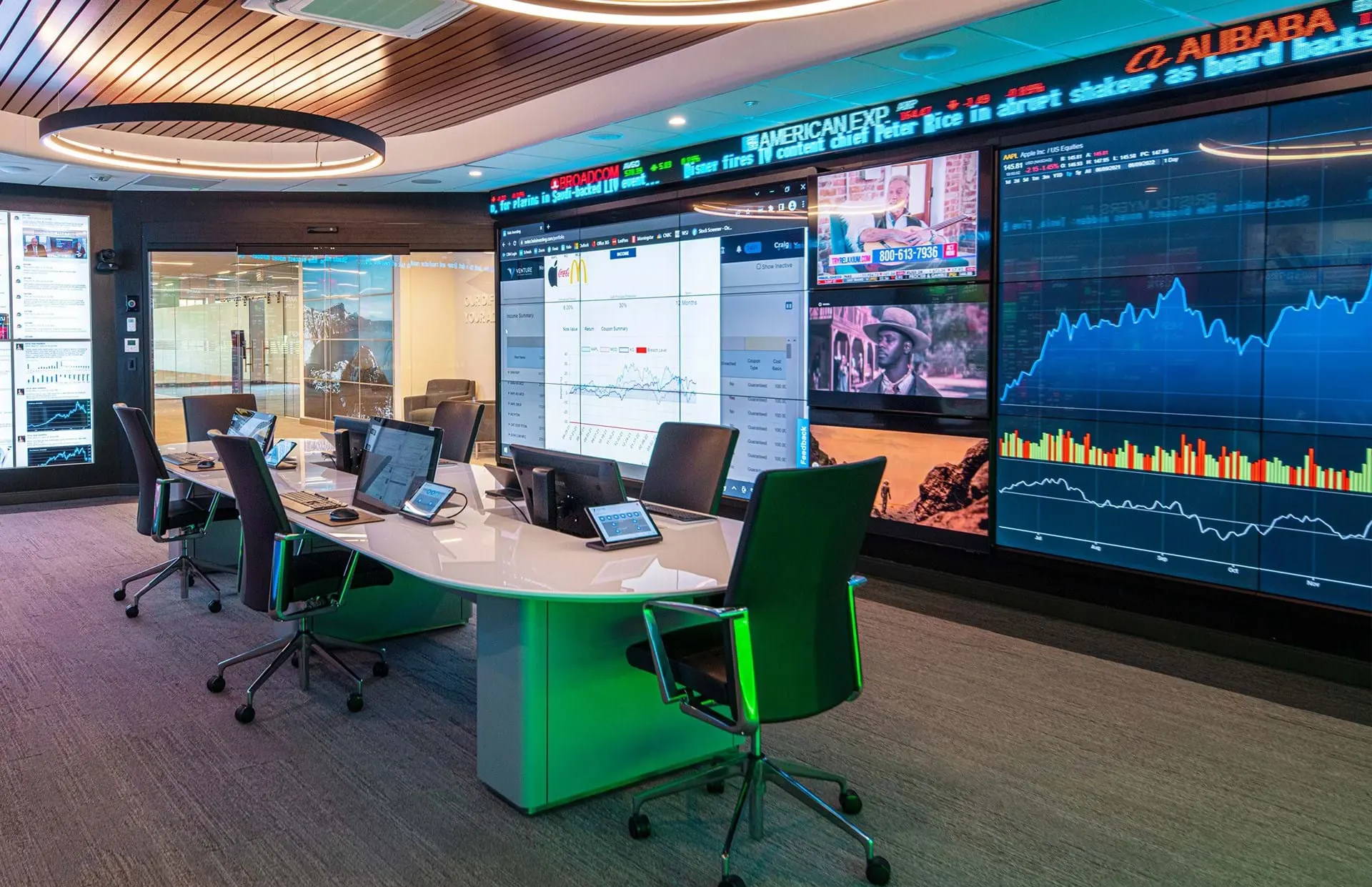 Partnering with Creation Networks
For organizations looking to implement cutting-edge AV solutions, Crestron control, and LED videowall technology, With their expertise spanning California and beyond, Creation Networks excels in designing, installing, and programming state-of-the-art AV systems. Reach out to them today to elevate your organization's technological capabilities.
SUBSCRIBE TO OUR NEWSLETTER
Recieve our latest weekly releases, offers, guides and more.