It's no secret that the world is undergoing a profound transformation. The pandemic has altered the way we relate to the space around us, and maintaining interpersonal distance is a challenge in conference rooms and auditoriums. Although the solution may seem simple, such as reducing capacity and maintaining separation between people, physical distancing can also pose difficulties in the business and educational sphere.
In addition to the obvious limitations in communication and the ability to understand each other clearly when we are physically distanced, there are several factors that can have a big impact on the way people interact with the speaker or with each other. For example, when there are co-workers connected remotely, chattering students, air conditioning noise, repetitive sounds such as typing or tapping, not forgetting the bad acoustics of the room.
Now that companies and educational institutions are looking for ways to adapt their spaces to meet the new demands, it is essential to carry out a rethinking of the audiovisual equipment installed.
The big picture
In meetings and seminars where some participants are face-to-face and others go online, through video conferencing apps like Zoom or Microsoft Teams, it's possible to create an effective audio ecosystem that not only connects virtual assistants to the speaker, but also takes into account the big picture: ensure good audio quality in the meeting room for everyone physically present and connect in-person participants with virtual participants.
All participants should be able to easily interact with each other and hear each other perfectly, regardless of whether they are online or sitting in the meeting room or in the auditorium.
In this sense, voice amplification is a fundamental technology to be able to hear clearly. It uses the components of a traditional sound system to amplify the voice of all participants present in a room.
The best thing about this system is that it increases the level of voice by just a few dB, enough to compensate for the decrease in speech intelligibility caused by the distance between attendees. The effect is so subtle that it is not even perceived by the physically present participants, let alone the virtual ones.
Like any conventional sound reinforcement system, voice amplification technology needs microphones, amplifiers, digital signal processors, and speakers, among other components. In times of pandemic and post-COVID, microphones are undoubtedly the easiest option to optimize a voice amplification system.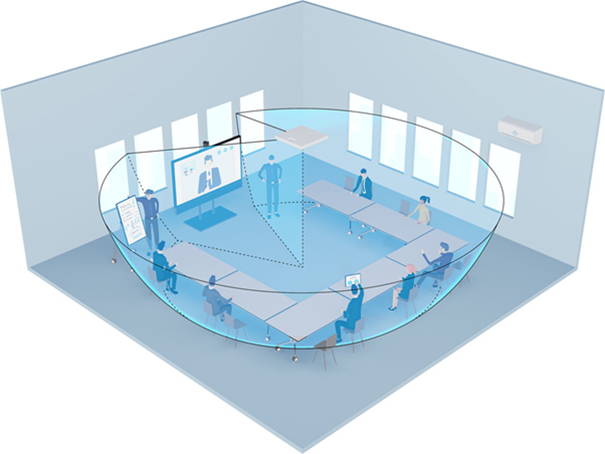 Ceiling microphones optimize the voice amplification system
Ceiling microphones ensure 'contactless audio', thanks to their array of microphones with beamforming technology, so there's no need to swipe the microphone or share it.
Not only does it help maintain a safe physical distance between participants, but it also encourages physical and virtual interaction between them, making lectures, debates, and seminars more natural.
Nor should we forget the comfort it means for a teacher or a speaker. Upon entering the room, he knows that everything will work without having to carry a handheld microphone, put on a lapel microphone or stay in front of a desktop one.
You can concentrate on your presentation or presentation, in hands-free mode, with the comforting feeling that all the participants present in the room or connected remotely will understand you perfectly.

In this context, sennheiser's TeamConnect Ceiling 2 (TCC2) microphone, a brand marketed by Magnetron, is a very interesting solution. Its adaptive beamforming technology automatically follows the speaker's voice, so you can speak naturally, no matter if you're sitting, standing, or moving around the room.
Meetings and classes gain in flexibility, since it is no longer a problem to have more speakers than expected, and interactions in the room are more natural. Something that, without a doubt, contributes to remote participants and remote students feeling more integrated into the meeting or seminar.
Recently, TeamConnect Ceiling 2 has been updated to incorporate TruVoicelift, a free feature that ensures crystal-clear audio throughout the room. This new technology is not just another complement, but has been equipped with several features that allow you to enjoy a quality listening experience.
Among these features is TruVoicelift, which is based on an advanced frequency change algorithm. Thanks to this, and unlike standard voice amplification systems, TCC2 is able to offer a higher gain without coupling, which can make a huge difference when it comes to listening perfectly to the speaker.
It also includes an anti-coup mute function, so that if audio levels are too high, TCC2 is briefly muted to avoid annoying couplings.
In conversations with multiple speakers, there are sometimes pauses in speaking. With TruVoicelift, if a predefined audio threshold is not reached, a noise gate is activated that silences the TCC2 system to prevent any background noise, such as whispering, from being amplified.
In any room there are usually areas where the audio will be captured mainly, such as in the front of a chair room. When you define this area as a 'priority zone', the microphone will focus on it when there is an audio signal and will not pick up conversations from other areas of the room.
On the other hand, there may be areas where it is necessary to exclude noise sources, such as air conditioners or fans. TruVoicelift makes it easy to solve this problem by setting up "advanced exclusion zones".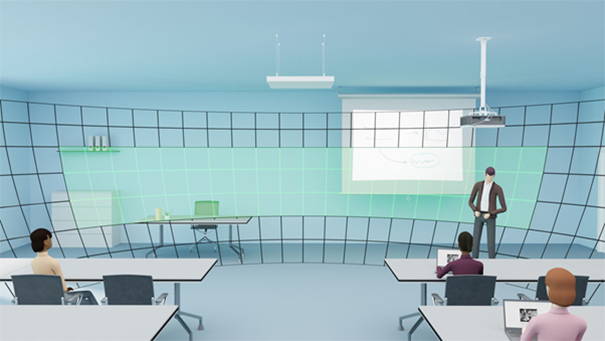 Open ecosystems save costs
From an installation and IT standpoint, an open system like TCC2, which can be integrated with any other ecosystem already installed, is ideal.
A system of these characteristics not only works perfectly with existing equipment, but will remain compatible if you change platforms.
In addition to saving costs, an open system makes it possible to combine the most suitable products for the intended task. A good starting point is to choose products that, for example, are certified for Microsoft Teams and Zoom, which guarantees that the system will be ready and running at the moment.
Another advantage for IT staff is the ability to easily configure TCC2 and TruVoicelift using the free Sennheiser Control Cockpit software, as microphone settings can be controlled from a centralized point. The ceiling microphone is also compatible with Dante Domain Manager.
TCC2 is compatible with all major video conferencing platforms and also offers additional benefits to companies and educational institutions equipped with Q-SYS ecosystems, since they can use a QSC plugin to easily configure and control the microphone.
In addition, TCC2's full compatibility with the Crestron control platform allows remote access to audio parameters, the mute function and the custom control of the ceiling microphone LED.
In addition, TeamConnect Ceiling 2 is fully compatible with Extron audio and video solutions. Thanks to its open protocol, TCC2 can also be integrated into any other solution.
Another interesting option is to use TCC2 for camera control. In this case, real-time positioning data from the ceiling microphone is used to capture the video of the speaker speaking so that it can be sent to remote participants, so hybrid meetings and presentations are much more interesting and natural for remote participants.
A glimpse into the future
Hybrid meetings and seminars are here to stay. The advantages they offer to companies and higher education institutions go beyond contactless audio and convenience.
For universities, remote students have become an additional source of income, and being able to offer them advanced solutions that enhance remote participation will make courses even more attractive to them.
On the other hand, companies can organize meetings and exchange impressions with experts and international clients more frequently. Although the first meeting can be face-to-face to meet in person, the following could be done remotely and, with the right technology, in the most natural way possible.
The addition of voice amplification technology will make these hybrid experiences enjoyable for employees and in-person students. Audio from remote participants is clear and intelligible anywhere in the room, and the presenter is clearly heard, no matter how far away.
The combination of the ceiling microphone and the voice amplification system provides a very natural and fluid communication between all the participants in the debate, whether they attend in person or remotely.
SUBSCRIBE TO OUR NEWSLETTER
Recieve our latest weekly releases, offers, guides and more.