Professionals and managers are constantly seeking improved meeting solutions in all industries. Meetings are a significant part of our work lives, particularly at the management level.
According to various workplace surveys, middle managers spend nearly 35% of their time in meetings. In contrast, upper management spends more than 50% of their time on strategy sessions, conferences, and similar activities.
You can significantly reduce meeting time by using wireless sharing solutions. With wireless presentation technology, meetings can start and progress more efficiently. But that's not all - wireless presentation solutions offer more benefits than time-saving.
What Are Wireless Sharing And Presentation Solutions?
Content sharing has become a must-have feature for in-person and virtual meetings. Having documents, graphs, figures, media, and concept drawings on hand is extremely useful, but sharing that content easily can be challenging.
Wireless presentation solutions eliminate this challenge and allow users to run a meeting from their own devices. To do so, users connect to the room's presentation technology from their machine, using prompts delivered through the display. In most cases, it only takes a minute or two to connect, usually through an app using a temporary authentication code.
How Do I Use a Wireless Sharing And Presentation Solution?
After establishing a connection to the wireless device with a dongle, through your browser or use a downloaded app. The user can effortlessly share and manage the conferencing hardware of the room using their device.
What Are The Benefits Of Wireless Sharing Technology?
In recent years, wireless sharing and presentation solutions have become increasingly popular. This can be attributed to several factors, including the convenience and benefits they provide. Specifically, wireless presentation solutions offer the following advantages:
1. Meetings That Start And Move Quickly
As time goes by, conferencing solutions for rooms have become more user-friendly. Despite this, many individuals still use smartphones due to familiarity and convenience. With occupancy sensors in your conference room, the presenter will be effortlessly guided through the connection process upon entry, enabling them to commence immediately. Furthermore, the presenter can operate the room's technology via their phone, eliminating concerns about utilizing unfamiliar equipment.
2. The Ability To Share Any Content
Wireless presentation systems make sharing content in meetings a breeze. Whether the device is used for a presentation, high-resolution videos, or PowerPoint slideshows, these wireless solutions can effortlessly share any content.
3. Cleaner, Safer Meetings
Connecting to a wireless presentation system eliminates the need for physical media, cables, ports, or controls. This reduces the risk of contracting illnesses through indirect contact since users won't have to handle shared hardware multiple times throughout the day.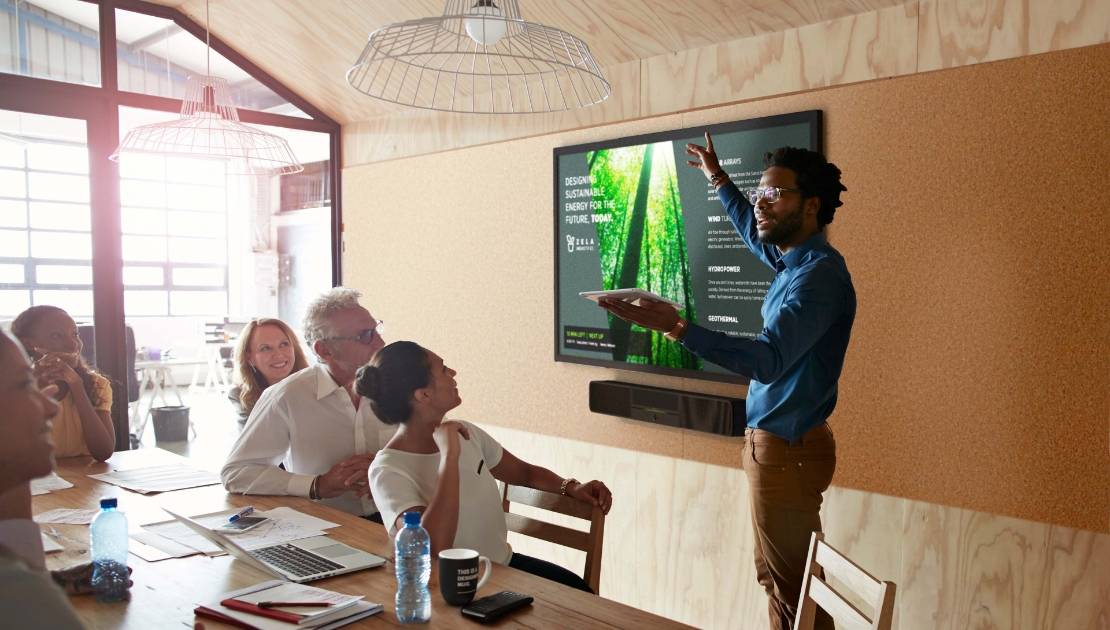 What are 3 proven wireless presentation systems that support organizations for content sharing?
The Crestron AirMedia Is A Feature-Rich Wireless Sharing Solution That's Easy To Set Up
There are various wireless presentation solutions in the market, one of which is Crestron's AirMedia. Crestron has been a renowned producer of conferencing solutions for many years and is the preferred brand for Microsoft ecosystems.
The AirMedia wireless sharing system is a flexible solution that seamlessly connects with desktops, laptops, and smartphones. It can integrate with a room automation system, offering connectivity guidance to users as soon as they enter the meeting space. With support for both in-person and virtual meetings, multiple users can collaborate and share content from different sources using their respective devices.
Crestron has added a One Button-Press for Simple BYOD Solution. Wirelessly present, share content, and conference from any device. Just a single USB-C® connection and one button-press to launch your meeting. No drivers to download, which simplifies guest participation. No applications to run. No wasted time.
The AirMedia device utilizes Crestron's XiO cloud service, providing convenient remote provisioning, monitoring, and maintenance capabilities. This is an ideal solution for IT managers seeking efficient and practical management tools.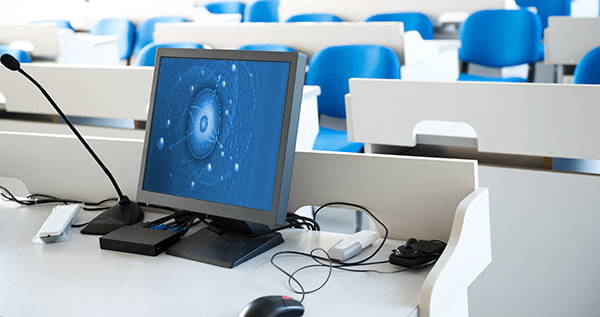 Flexible, high-performing wireless presentation With ScreenBeam
With ScreenBeam, you can enjoy a seamless screen mirroring experience without the need for cables, buttons, adapters, or dongles. This innovative solution works with any existing infrastructure, making deployment and management effortless. Plus, you can use it anywhere with ease.
This is ideal for classrooms, where students can connect their devices to the ScreenBeam and present when called on at the start of class. All of this can be done wirelessly through the ScreenBeam app and using an authentication code.
ScreenBeam Conference Wirelessly connects user devices to displays and room peripherals for flexible collaboration and content sharing. Even when dozens of devices are connected, the meeting's presenter has complete control over the presentation. They choose which devices to share content from and can annotate where needed.
The ScreenBeam app stands out from others as it transmits audio and video signals and allows for touch manipulation of content wirelessly on the screen. In contrast, other devices only allow for presentation from the user's device.
Barco Clickshare Offers One-Button Functionality And Full Interactivity
If you are looking for a reliable wireless presentation solution, Barco's Clickshare is an excellent option for collaboration. It allows the presenter to wirelessly connect to the room's presentation equipment using either the Clickshare app or a Clickshare button. This enables the presenter to begin sharing their content quickly and easily.
Clickshare stands out because of its security, advanced features, and usability. The Clickshare is entirely tech-agnostic for work with any device, conferencing platform, and any brand of AV hardware. This makes Clickshare ideal for BYOD workplaces and organizations relying on multiple vendors for conferencing and presentation solutions.
An AV Integrator Knows How To Install And Configure Wireless Sharing Solutions
Wireless presentation solutions are quickly replacing touch-centric conferencing and control systems. If it's time for your organization to make a similar shift, a certified AV integrator can provide the needed expertise, resources, and workforce to make the change as efficient as possible.
Next Steps
Creation Networks provides industry-leading expertise and a customer-centric approach to help you design and deploy wireless audiovisual technology solutions and services for your unique environment.
If your organization is ready to bring intelligent AV solutions and LED video wall technology to your new building, Creation Networks is here to help. We design, install and program state-of-the-art AV systems in businesses across California and nationwide. Contact Us Today
Read more: Wireless Video and Audio conferencing solutions provide exceptional value
SUBSCRIBE TO OUR NEWSLETTER
Recieve our latest weekly releases, offers, guides and more.