If you want your professional conference and meeting rooms to perform at their best, you need quality A/V equipment. This equipment makes it easier to communicate with your team across multiple platforms and improves the general effectiveness of your conversations.
However, even the best technology tends to run independently, so it takes a certain type of device to ensure every piece of equipment works in tandem. In this piece, we'll discuss why an A/V control system is important for your business and what advantages you gain by using one.
A/V Control System Basics
When assembling your conference room's A/V system, it's important that you have quality equipment and that each device performs its respective tasks well. But for a meeting or presentation to run smoothly, these devices all must work alongside one another and be able to adjust depending on your needs.
Audio-visual control systems are additional pieces of technology that connect to your A/V setup, allowing you to control it from one central panel. With a control system, you create a command center where you can adjust everything from video quality to microphone settings in a timely manner.
There are several different types of control systems, though they often come as a keypad or tablet with various equipment settings. In hooking each device up to these control hubs, you can select and change preferences as you see fit. This way, you don't need to navigate the settings of each device separately to make changes to your system's performance.
Please note, however, that control systems require specific programming services to ensure they're easy to navigate for you and your team.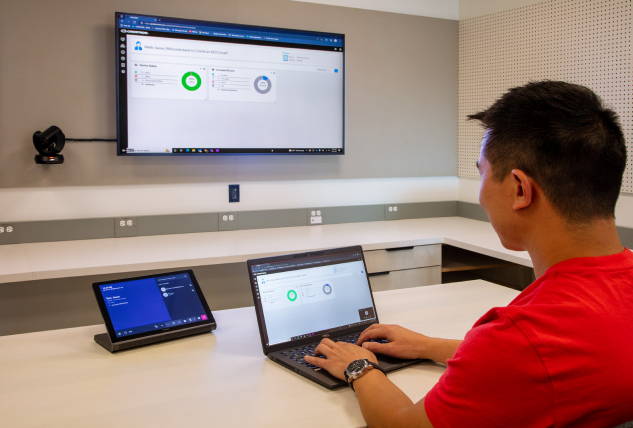 The Benefits of an A/V Control System
There are several noteworthy advantages to equipping your A/V arrangements with a quality control system. In fact, its sole reason for existing is to streamline the meeting setup process and maximize your level of influence over how each device performs in a professional setting. These are some of the top benefits of using a control system in your meeting areas.
1. Better Device Accessibility
For one, these products enable immediate access to the settings of every single device in your system. This is great for improving the accessibility of the machines and encouraging you to make regular adjustments to sound levels and visual quality depending on the situation.
Best of all, you won't need to climb a ladder or pull the equipment out of the cabinet just to manipulate their output. This increased physical accessibility will make performing maintenance much more straightforward and less time consuming.
2. Increased Equipment Customizability
By utilizing control systems, you have the power to tailor your A/V equipment to fit the unique needs of your business perfectly. Since each industry and company has different requirements for their conference spaces, having the ability to establish your specifications can significantly enhance the overall quality of your meetings.
With the aid of one control system, you can select and save any number of unique guidelines. Some models even allow you to save several sets of preferences. This allows you to freely switch among them, depending on whether you're hosting a collective conversation or doing a presentation. Essentially, these pieces of equipment put all the power in your hands.
3. Improved System Performance
In taking more control of your A/V equipment, you will naturally experience a higher level of general performance in your day-to-day operations. Whether you're talking with clients or your internal team, meeting participants want these gatherings to go smoothly. This means reducing the likelihood of error, minimizing equipment downtime, and promoting superior audio and visual quality for all. Since control systems give you more insight into how each device runs, you can tweak necessary settings as you go and even correct simple issues on the fly. This way, you can facilitate maximum productivity.
4. Superior Meeting Room Organization
Additionally, control systems make it possible to better organize your conference rooms. All too often, A/V setups leave these spaces looking cluttered and unorderly. This is due to the need to run cables throughout the space to get the full coverage you want.
Control systems help cut back on unnecessary wiring by acting as a hub that covers everything from one central location. As a result, you leave your conference rooms with a much cleaner and more professional look. You won't need to worry about tripping over extra cables, either!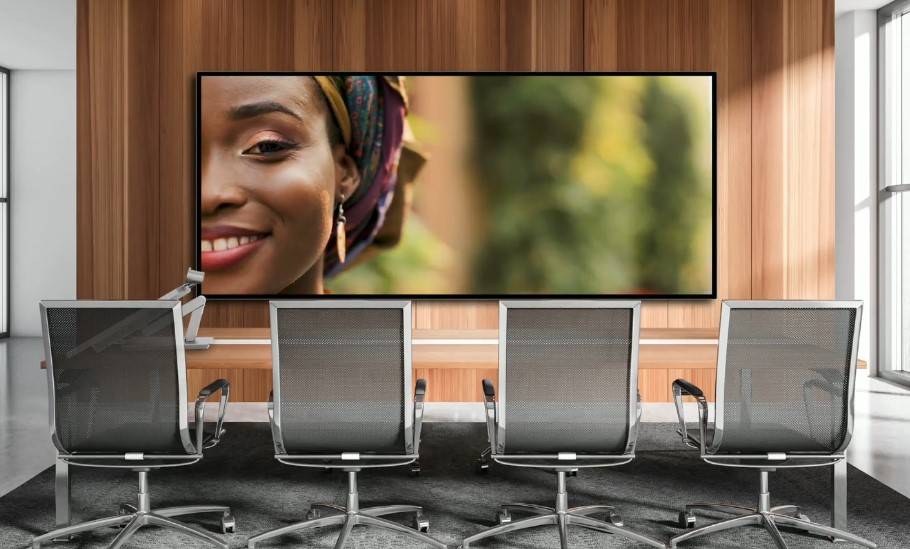 Why Your Business Needs an A/V Control System
After understanding the general benefits of control systems for companies, it is crucial to consider the significance of AV design & integration company for designing a control system that meets the specific needs of your business. Utilizing A/V control devices can significantly enhance the efficiency of your meetings, freeing up valuable time for your team to focus on the tasks at hand. By optimizing this aspect of their day, they can maximize productivity and accomplish more in less time.
Having a control unit will also allow you to monitor the performance and condition of your A/V system, letting you know when to consider upgrading or when something malfunctions. Responding to issues as they occur is a great way to keep things operating smoothly without spending additional money on replacements.
Furthermore, you can automate these systems, so your A/V equipment can perform critical updates independently. With less day-to-day management work for your IT team, they can work on other pressing company issues and prioritize core internal operations.
Incorporating an A/V control system is an excellent step toward creating advanced office space and heightening the effectiveness of your technological resources. So don't miss out on this chance to make a lasting investment in your company's success.
If you're in the market for A/V control system products and control system programming services, Creation Networks can help you find exactly what you need. We know that each professional A/V setup looks different, and we want every company to get the most out of their integrated technologies. Therefore, we make it a point to assess each case carefully and recommend the products that best fit those specifications. Contact us today to learn more about A/V control systems and how we can help you get the upgrade you've been searching for.
SUBSCRIBE TO OUR NEWSLETTER
Recieve our latest weekly releases, offers, guides and more.