Why does a hybrid conference room setup need to be configured for a hybrid office?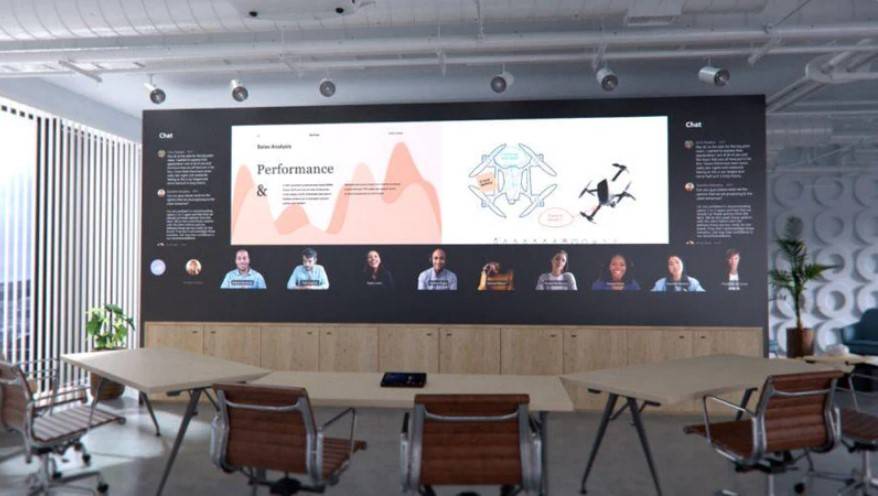 Hybrid offices allow employees to work in both traditional and hybrid modes. Workstyles such as hybrid and distributed work allow employees to work from their homes or different locations. The hybrid office supports this workstyle by investing in technology such as video conferencing. Using video to conduct hybrid meetings impacts their workforce, and they can have more effective meetings.
Did you know? Sixty-three percent of high-growth businesses employ a hybrid working model based on "productivity anywhere".
Popular hybrid meeting room types
Large hybrid rooms
A large video-enabled hybrid conference room can be used for large groups, training sessions, and presentations of eight or more people. Among the most important features of the hybrid room is the need is a monitor, or multiple monitors, for displaying presentation materials and video streaming remote attendees joining via Zoom or Microsoft Teams.
In large spaces, long tables, U-shaped tables, and classroom styles are common seating arrangements. The video wall is always placed in the front of the room, where everyone can see and participate clearly.
Medium hybrid rooms
The medium-sized hybrid conference rooms can accommodate up to seven people, which makes them perfect for the ad hoc troubleshooting sessions that arise throughout the week, as well as the regular and informal team check-ins that are a mainstay of most companies.
In a medium hybrid room, a monitor is mounted at the front of the room; however, two monitors are preferable to display presentations and remote teammates. It is typical for medium-sized spaces to have a single long or a round table where people can gather. A more relaxed hybrid space may also be created, for example, with sofas and bean bags arranged around the video wall.
Small hybrid rooms
These small video-enabled conference rooms can hold one to two people and are often called breakout rooms, focus rooms, or huddle rooms. These are ideal when only a few people need to connect with remote teammates, since they still require video technology, but require a small area.
In these rooms, we use monitors to display content & video conferencing. Instead, people bring their own devices (BYOD) to the room. Alternatively, small hybrid rooms might be equipped small screen purpose-built for video collaboration.
6 tips to help you set up the right hybrid conference room configuration
Identify the number of people who will be attending the event, so you know exactly how many chairs to order and what size table to set up. It may be necessary to use more than one monitor in a video meeting if you expect a large number of people to join remotely. Whether everyone is in the room or joining from home, the goal is to be clearly visible to everyone.

nteraction levels - Consider what kind of meetings you want to hold in your hybrid meeting space and how much interaction they require. Creative brainstorms are highly interactive, with many participants contributing ideas and thoughts. On the other hand, more formal meetings with pre-determined speakers and a structured agenda are less interactive. The purpose of these kinds of meetings is to listen and receive information. Consider the type of meeting you want to hold when choosing your seating configuration. Long tables, for example, create an atmosphere of equality and encourage everyone to participate. U-shaped tables, on the other hand, are ideal for small meetings where just a few people need to be in charge. You might want to consider creating some space in the room so that people can move around, for example, to present or facilitate your meeting. If your video camera can track the in-room participant's movements, remote participants won't necessarily be at a disadvantage.

Power locations are among the most important considerations for a space. Charging locations are necessary for people to charge their laptops, tablets, and mobile phones. You can't connect a distributed team if everyone in the room runs out of juice on their devices!

An important focal point of a hybrid meeting space is the video wall. This is the interface between participants in and outside the room, in the office and remotely. For video meetings in large rooms, it may be necessary to have more displays, especially if you want everyone to be clearly visible. Monitors can be mounted directly on the wall or mounted on a cabinet or on wheels if they need to be portable, such as shared between multiple rooms. The use of video collaboration enabling wireless content sharing, annotation, and whiteboarding has increaswed lately. In order to use this video screen as an all-in-one video conferencing device, you will also need speakers installed by your video wall and microphones scattered throughout the room.

Take into consideration whether you need to hold confidential meetings or if passersby may see and hear the discussions. If your meeting space has thin partitions or glass walls, you should make sure that sensitive data and information is protected.

You should also consider the acoustics, style and atmosphere of your meeting room and how it will affect your participants. Lighting has a significant impact on our mood. Natural light promotes energy and alertness as well as bright electrical lighting, although the latter can raise stress levels and cause headaches if it is sustained for an extended period of time. Darker rooms provide a more cinematic presentation experience, while mood lighting creates a more relaxing and cozy atmosphere in informal meeting rooms. It is important to pay attention to the decor, including the colors on the walls and the soft furnishings. A room's visual appearance reflects your company's brand and affects the space's atmosphere.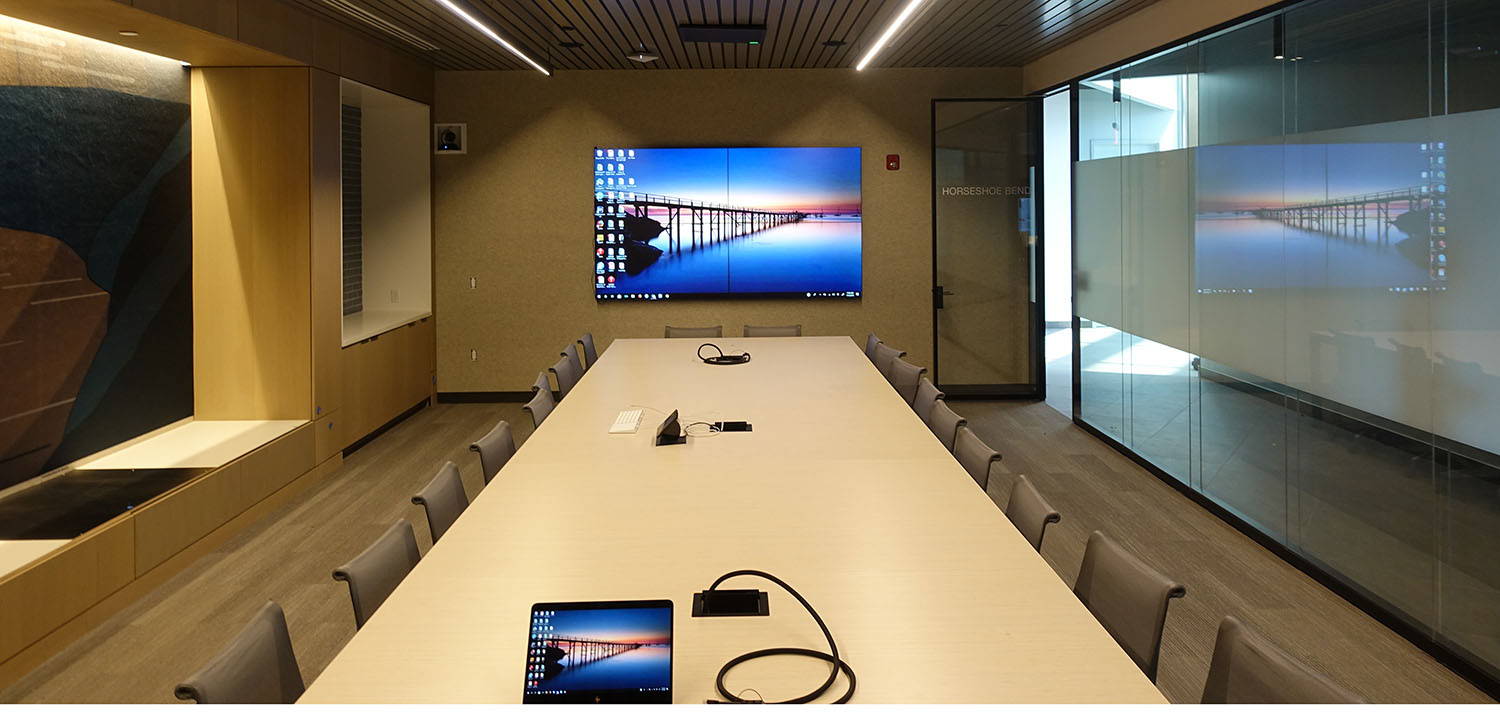 NEXT STEPS
Our Audio Visual Team is ready to help solve your AV Technology Challenges! We are available by phone, Zoom, and on-site visits according to both your safety protocols and ours.
SUBSCRIBE TO OUR NEWSLETTER
Recieve our latest weekly releases, offers, guides and more.