Crestron AV Solutions Create Engaging Meeting Venues at Lake Tahoe Community College University Center
Located on Lake Tahoe's South Shore, the Lisa Maloff University Center at Lake Tahoe Community College provides advanced education, meetings, and special events with a
higher

level of comfort and technology.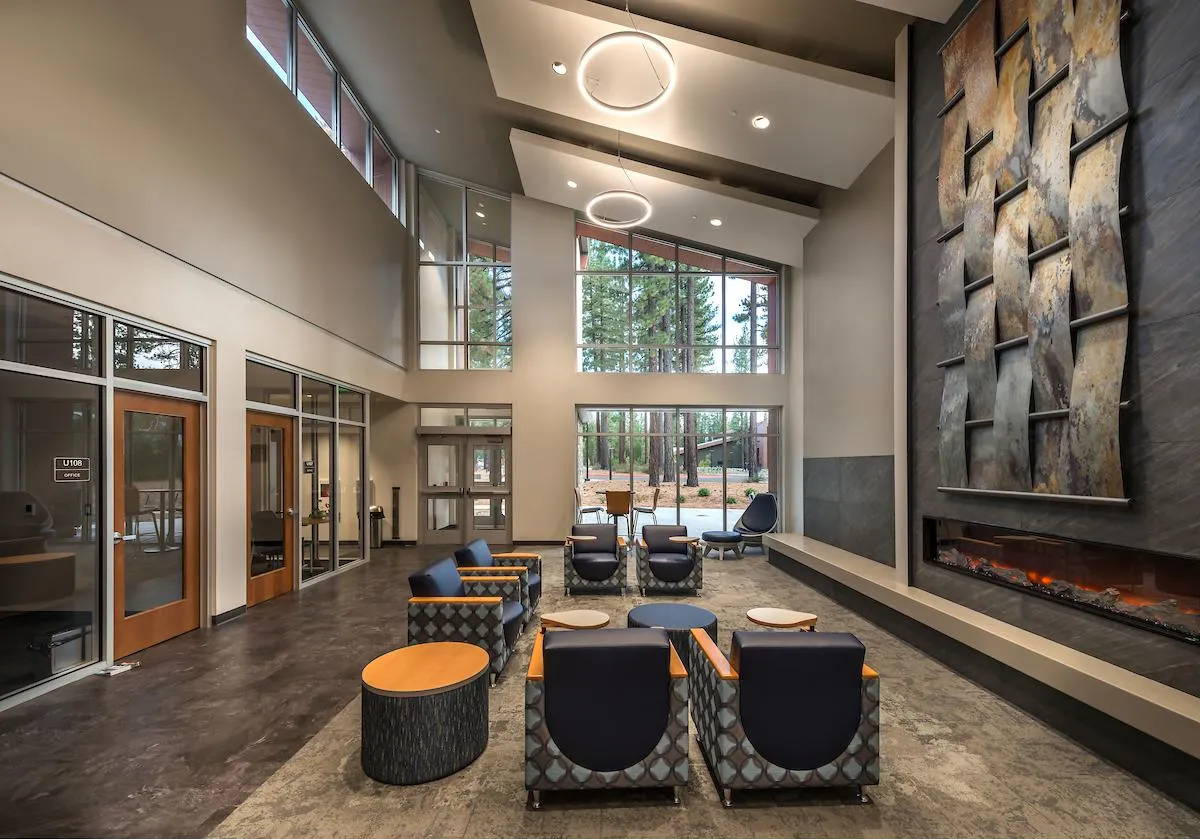 As the hub of higher education, the University Center provides students with the most modern and effective instructional, multimedia, and telecommunications technology available. Discover what degrees and certificates are currently offered through our University Partners. Additionally, this innovative facility is available to organizations and businesses looking for an impressive meeting space.
The design of the University Center weaves mountain modern elements and upscale touches with abundant natural light to create bright and airy spaces. The 7,000-square-foot space includes four flexible rooms that are fully equipped with the latest audio visual technology, including interactive displays, laser projectors, and motion sensing cameras. The building also has a fully integrated executive conference room and an outdoor courtyard that can serve as a hosting area for special events.
Challenges
The renovation involved extensive remodels to the structure, and many high-tech additions and upgrades, including cutting-edge audiovisual amenities. These make the LTCC Lisa Maloff University Center a one-stop hub for learning, teaching, research, collaboration, and experimentation. AV-enabled spaces added during the 2021 upgrade include the ELC, a collaborative space for data science, visualization, and analytics. Also included in the renovation are more class rooms, more learning labs, and more presentation spaces to augment the library's existing complement of such spaces. Crestron AV video switching, distribution and control is crucial to the operation of all these spaces.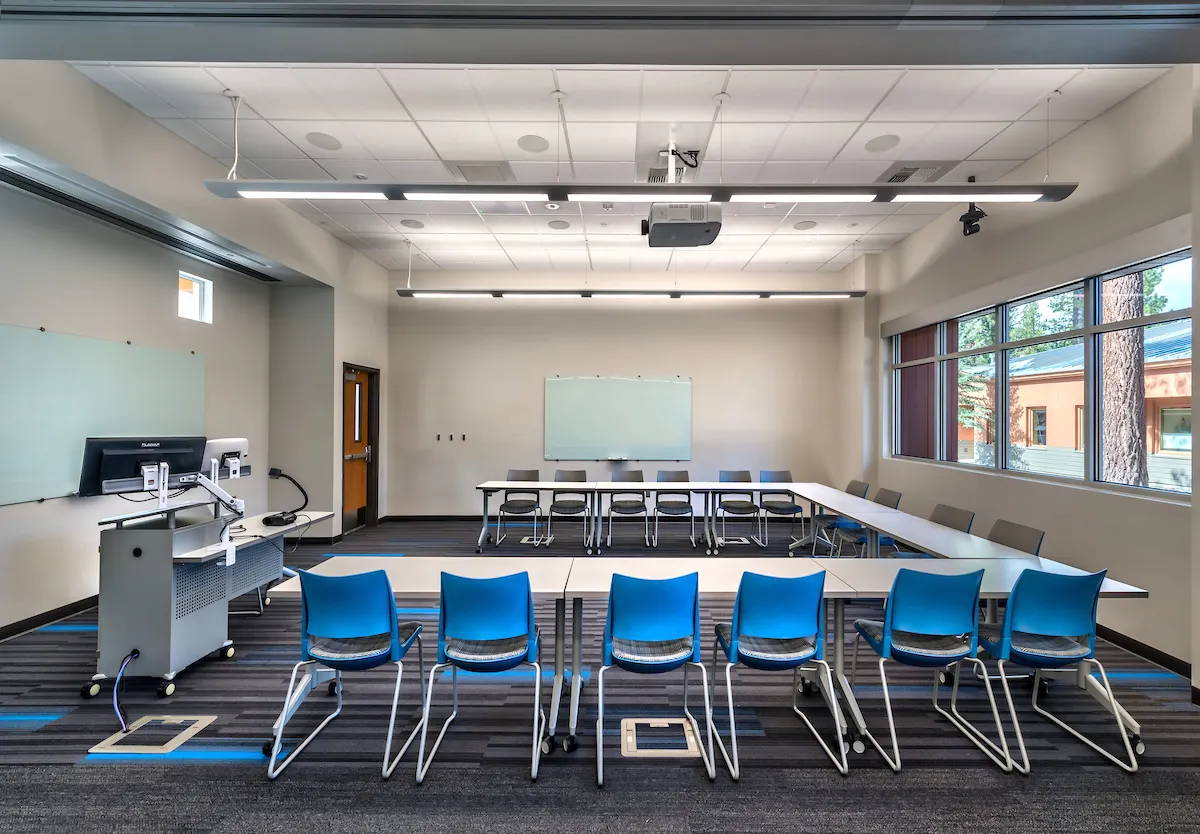 FREE 2022 Audiovisual Room Design Guide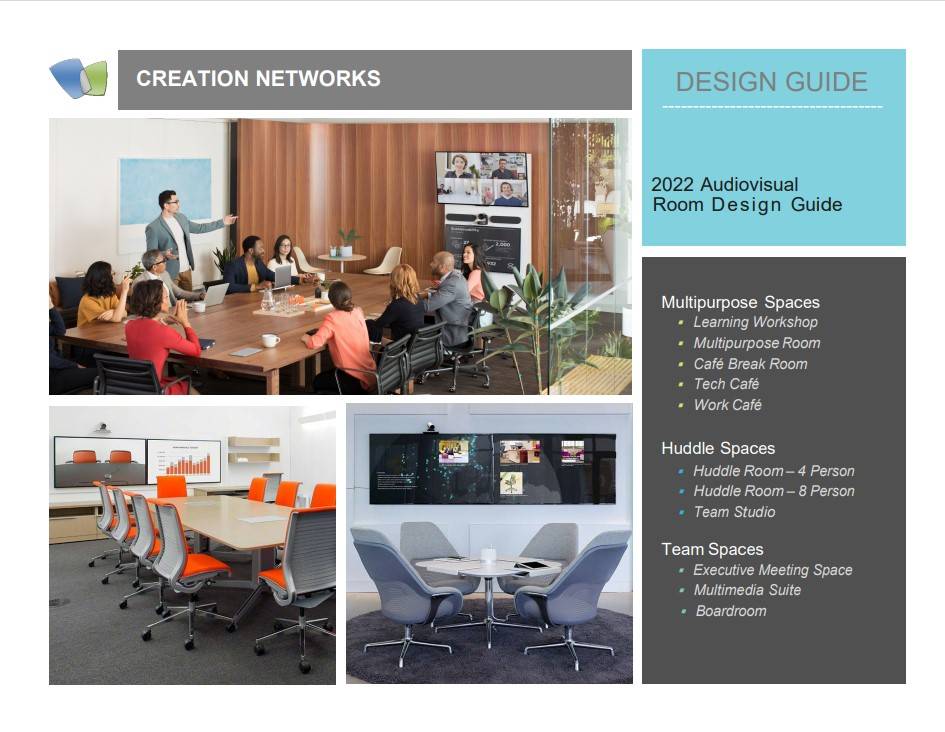 Expert Guidance from Industry Experts

Our AV Technology specialists have spent decades focused on understanding the needs of organizations like yours.

Design Solution
The in-house AV technology team at LTCC made a strategic decision to implement Crestron AV video and audio switching, distribution, and control in the Lisa Maloff University Center partly because they had already used Creation Networks to manage their deployment of systems in many of the school's other learning venues.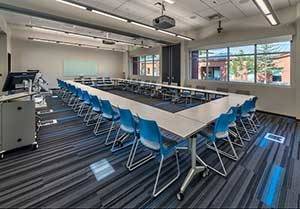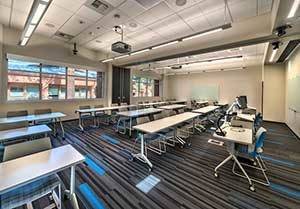 Four Flexible Classrooms
The University Center provides the most modern and effective multimedia and telecommunications equipment for your meetings and events in South Lake Tahoe. Crestron technology provides world-class audio and video quality for multimedia presentations, online collaboration, live streaming, and presentation capture. Tables and chairs in the classrooms were designed to be moved to meet your arrangement needs. Two classrooms include multiple huddle desks with 43" screens, ideal for interactive meetings and breakout sessions.
Crestron technology provides world-class audio and video quality for multi-media presentations, online collaboration, live streaming, and presentation capture.

Four Divisible Collaboration, Conferencing, Training & Lecture rooms

NEC 6500 lumen laser projector that supports 4k content and large format screen included with classroom rental

Three cameras in every classroom, including two 1 beyond motion sensing cameras and one digital document camera

The system is preloaded with collaboration software and allows BYOD

The Solution includes video and audio to support video conferencing

Huddle desks with 43" flat panel screens provide areas to work collaboratively and display content at multiple locations throughout the classroom

Flexible space and furniture adapts to accommodate 50 seats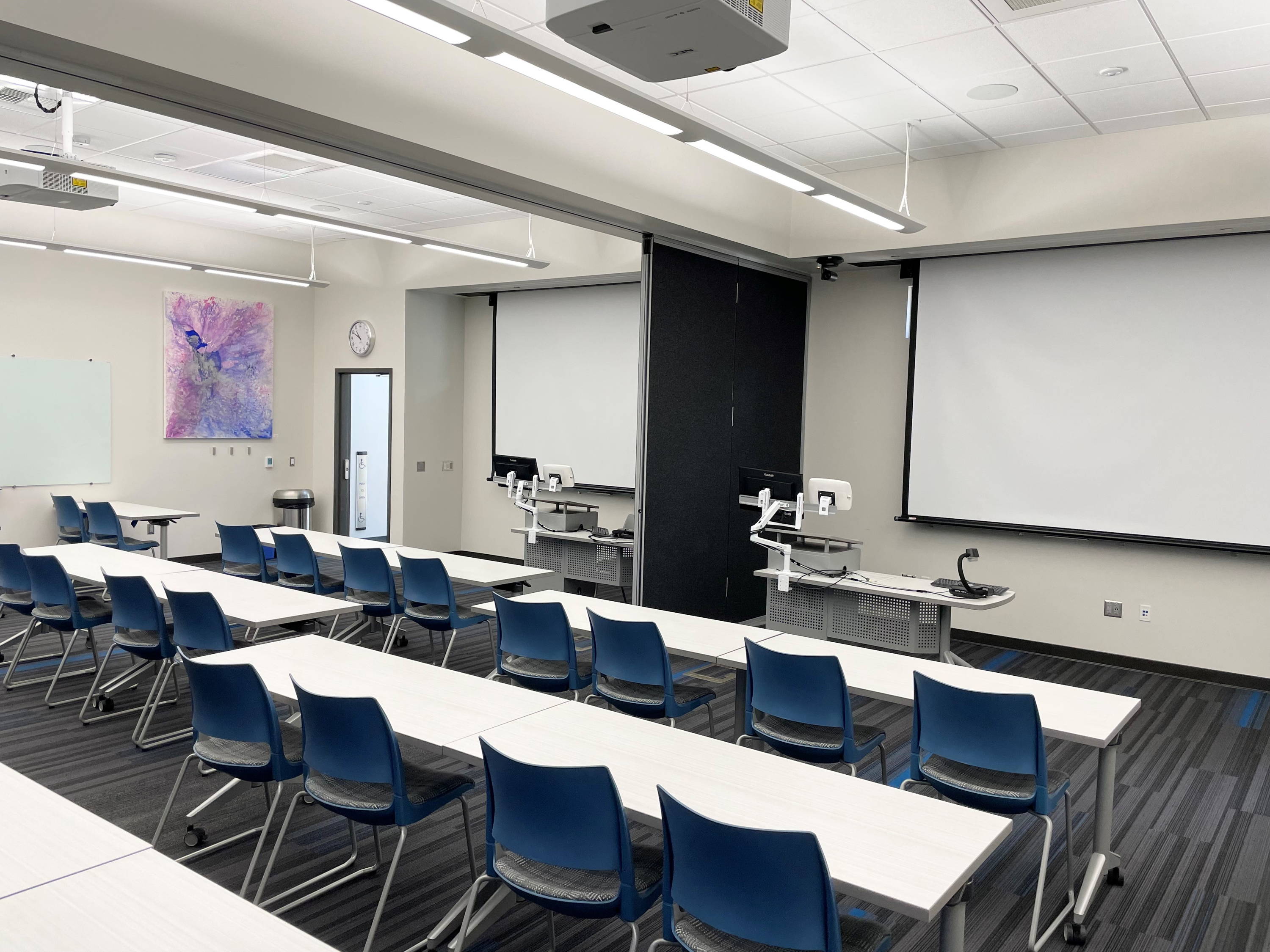 AV Enhances Visualization in the
Executive Conference Room
Crestron technology provides world-class audio and video quality for multimedia presentations, online collaboration, and live streaming
A 98" ultra HD 4K touch sensitive flat panel television provides full connectivity for presentations and online conferencing

The Shure MXA310 table top microphones provide great voice pickup

Innovative executive conference table handcrafted by Mez Works Furniture in South Lake Tahoe

The room seats up to 12 people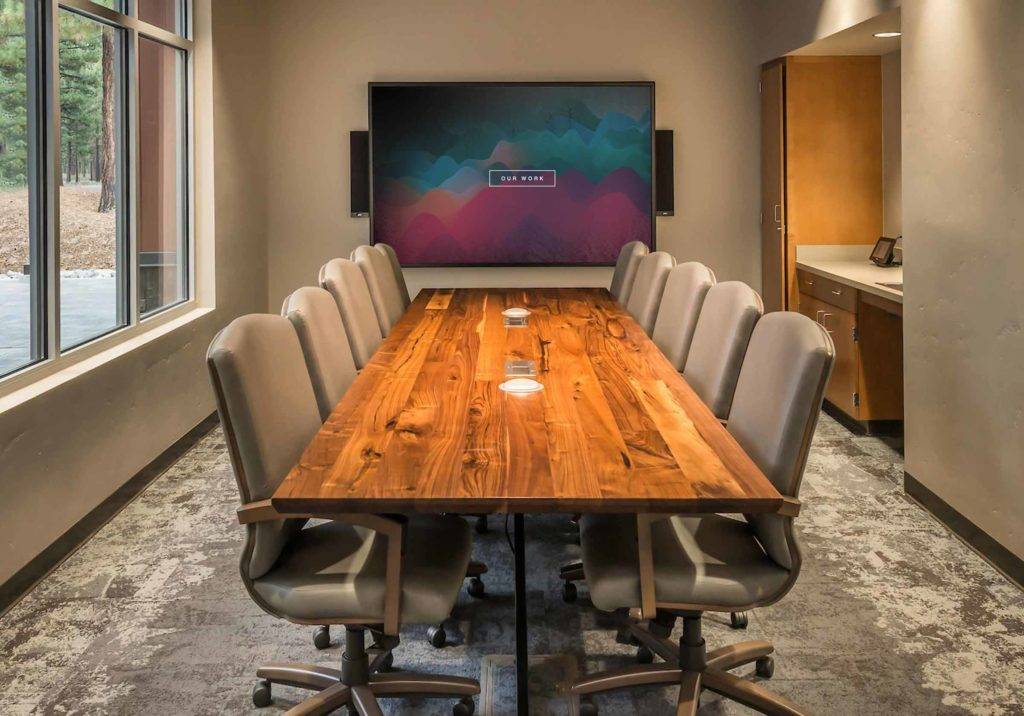 AV-Enabled Classrooms Rooms on all Floors are
Convenient Collaboration Spaces
The hybrid classrooms rooms are perfect places to share ideas. Each table seats four , the room has a side wall devoted to a whiteboard, and a front wall containing two 86" flat panel displays or a projector. Participants can share HDMI content through an HDMI wired connection to a wallplate transmitter or via a wireless access point. Users control the AV control system with a wall mounted Button Panel next to the transmitter wallplate.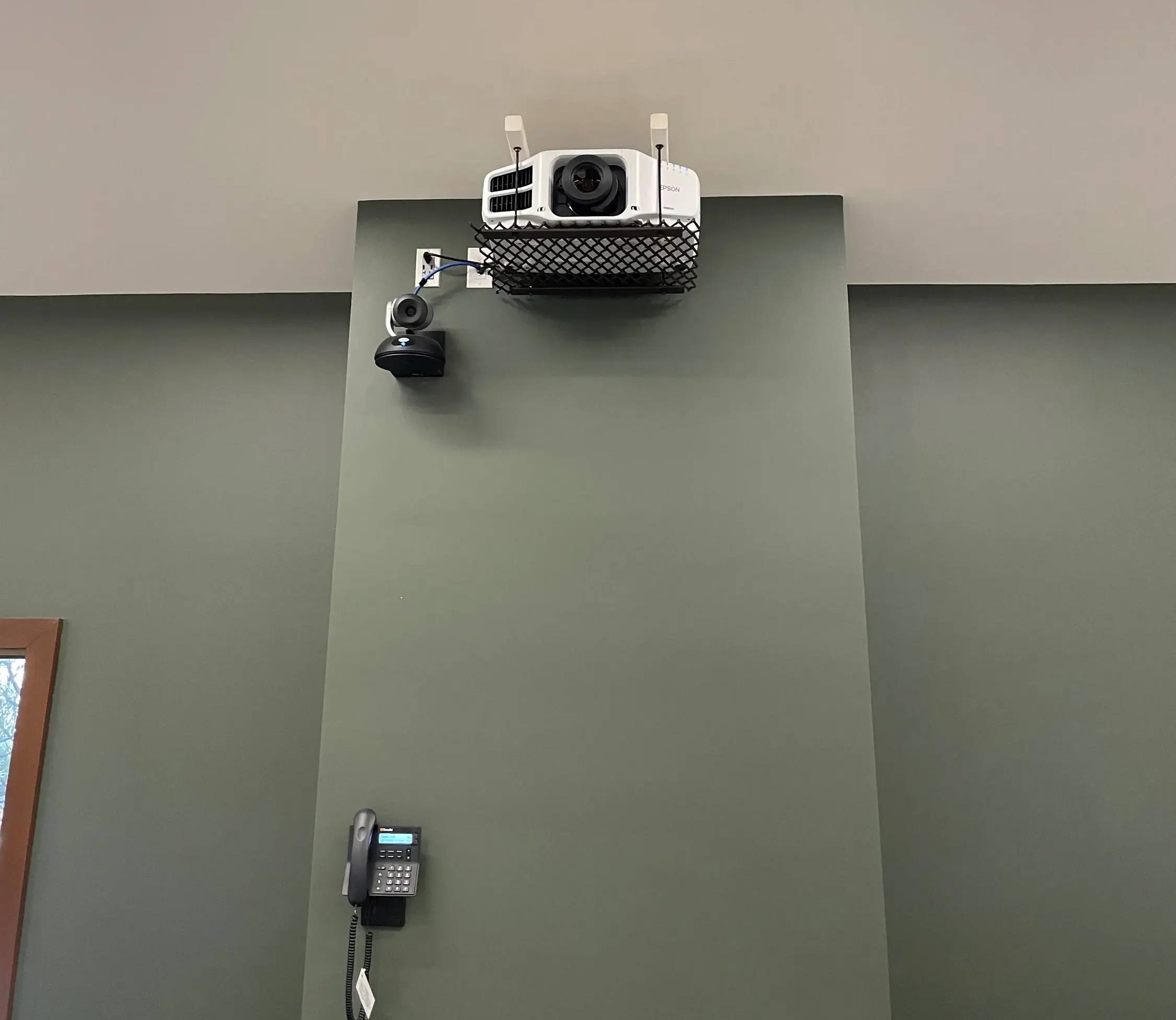 Results -

It's Easy Being Green
A lot of thought went into every element of the Lisa Maloff University Center, including its impact on our sensitive Lake Tahoe environment. That's why it was important for us to create a building that is functional, eye-catching, and operationally clean. The building uses state-of-the-art conservation construction to maximize energy efficiency, water conservation, indoor air quality standards, and sustainable building materials.
NEXT STEPS
If your organization is ready to bring intelligent Crestron control, and LED video wall technology to your new building, Creation Networks is here to help. We design, install and program state-of-the-art AV systems for education faculities California and nationwide. Contact Us Today
Learn more: LMC College expands Crestron technology in new classrooms
SUBSCRIBE TO OUR NEWSLETTER
Recieve our latest weekly releases, offers, guides and more.