Introduced as the Shure flagship product, the new MXA920 array microphone incorporates Automatic Coverage technology and a state-of-the-art architecture that offer easier configuration and better voice quality
With the launch of the ceiling array microphone MXA920 ceiling array microphone, Shure has ushered in a new era in array microphone technology. Thanks to Automatic Coverage technology, it offers pre-configured audio capture that requires minimal effort in its configuration
This audio solution employs a state-of-the-art array architecture that achieves more directive capture and more natural voice. On the other hand, integrated IntelliMix DSP ensures noise- and eco-free meetings and delivers optimal audio clarity and intelligibility for audio-visual conferencing in all environments: hybrid classrooms in higher education institutions, and corporate and government meeting spaces.
Available in two formats (square and round), MXA920 microphone integrates into the design of even the most modern facilities and meeting space
"The effectiveness of audiovisual conferences depends on the quality of the audio of the participants" says Doug Daube, Director of Microphone Systems at Shure. "Our customers need solutions that pick up their voice naturally., that are integrated into the aesthetics of the room and that allow participants to connect effortlessly, regardless of where they are located. The MXA920 meets all these modern and constantly evolving needs as it ensures easy deployment and unmatched voice capture"."
For today's professionals, it is critical that network audio capture allows you to cover the most complex acoustic spaces and is compatible with custom applications. The MXA920 offers audio professionals easier deployment and allows them to integrate advanced applications such as camera tracking, voice amplification and sound reinforcement.
It is certified for Microsoft Teams when used with the IntelliMix P300 DSP and the Microflex MXN5C network speaker, simplifying connectivity for end users. There are models in square (only white) and round (white, black or aluminum) format that can be painted to match the decoration of the room.
All models can be mounted recessed or attached to the ceiling, on a stand or suspended by cables thanks to the new mounting accessories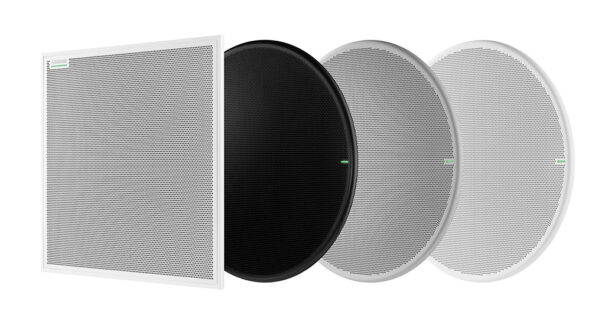 Automatic Coverage Technology

:

 

Provides optimal audio capture that requires minimal setup effort

.

 

You are now ready to automatically cover an area of 9

×9 metre area,

 

reducing setup time and effort

.

 

Coverage can also be customized based on different room layouts or seating arrangements

,

 

to take sound only from specified meeting participants and avoid areas that you want to exclude

.

State-of-the-art array architecture

:

 

Offers more directive capture across the frequency spectrum to maintain accurate coverage of specific areas

,

 

as well as improving voice quality for more natural sound and less focus on other sounds in the room

.

 

The new DSP algorithms make the voice of the participants heard more naturally and accurately

.

Greater flexibility of use

:

 

Sends the precise location of each speaker to the camera control system

,

 

allowing for more accurate camera tracking

.

 

Steerable Coverag technology with individual audio outputs offers greater gain before coupling when used for voice amplification and sound reinforcement

.
SUBSCRIBE TO OUR NEWSLETTER
Recieve our latest weekly releases, offers, guides and more.