LG's new 75-inch TV (75UR762M) offers flexibility when designing new interactive systems for patients and is a great choice for split-screen solutions.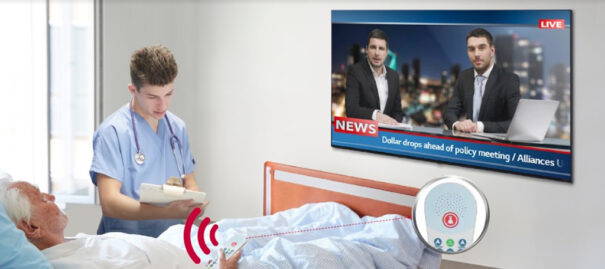 LG Business Solutions has unveiled its 75-inch NanoCell 4K Ultra HD TV. A piece of equipment that has received UL 62368-1 certification for use in healthcare facilities. It offers facilities the opportunity to create spaces that offer high-quality remote collaboration and entertainment experiences that many patients enjoy in their homes.
The new LG NanoCell 75-inch hospital TV (75UR762M) offers hospital room integrators flexibility in designing new interactive systems for patients and is a great choice for those who have to design split-screen solutions.
"LG addresses the large-format display needs of hospitals and healthcare facilities with this new 75-inch 4K TV. Whether it's needed to deliver entertainment or deploy patient engagement solutions, it has everything a healthcare environment needs, including pillow speaker support," said Tom Mottlau, director of healthcare, LG Business Solutions USA.
UL-Listed Hospital TVs with NanoCell Technology
Contact Us for the LG NanoCell Hospital TV
75UR762M (NA)
LG 75" NanoCell Hospital TV
UL Hospital Grade Listed
Pillow Speaker & Nurse Call Ready
Web-based Telemedicine Ready
Pro:Centric Hospital Management Solution
LG's NanoCell hospital TVs are designed to simplify system operations and design, with the company's Pro:Centric Smart and Pro:Idiom platforms providing easy access to streaming services for entertainment and broad support for video collaboration options.
The Pro:Centric platform is useful for hospitality and healthcare integrators because it allows them to manage screens remotely over IP and create custom interfaces using simple built-in editing tools.
The LG NanoCell 75-inch hospital TV also includes a 6-pin interface for use with 'pillow speakers' that allows compatibility with certain hospital nurse call systems.
It also offers a commercial installer menu with various settings for use in patient rooms and a SoftAP (software-enabled access point), which provides additional WiFi access points for patients and visitors.
System integrators can also leverage LG's webOS 6.0 and Pro:Centric smart TV platforms to implement custom telehealth solutions with the help of built-in dual 10-watt speakers and multi-webcam support via a USB input.
The TV allows the use of streaming applications and custom-designed video distribution systems without the need for a set-top box at the TV's location.
It offers a brightness of up to 330 nits and a contrast ratio of 1,000,000:1 that provides high-quality images for virtually any content and room. Assembly is quick and convenient thanks to a standard 400×400 Vesa configuration that is compatible with many brackets
SUBSCRIBE TO OUR NEWSLETTER
Recieve our latest weekly releases, offers, guides and more.