LG's new 75-inch TV offers flexibility when designing new interactive systems for patients and is a great choice for split-screen solutions.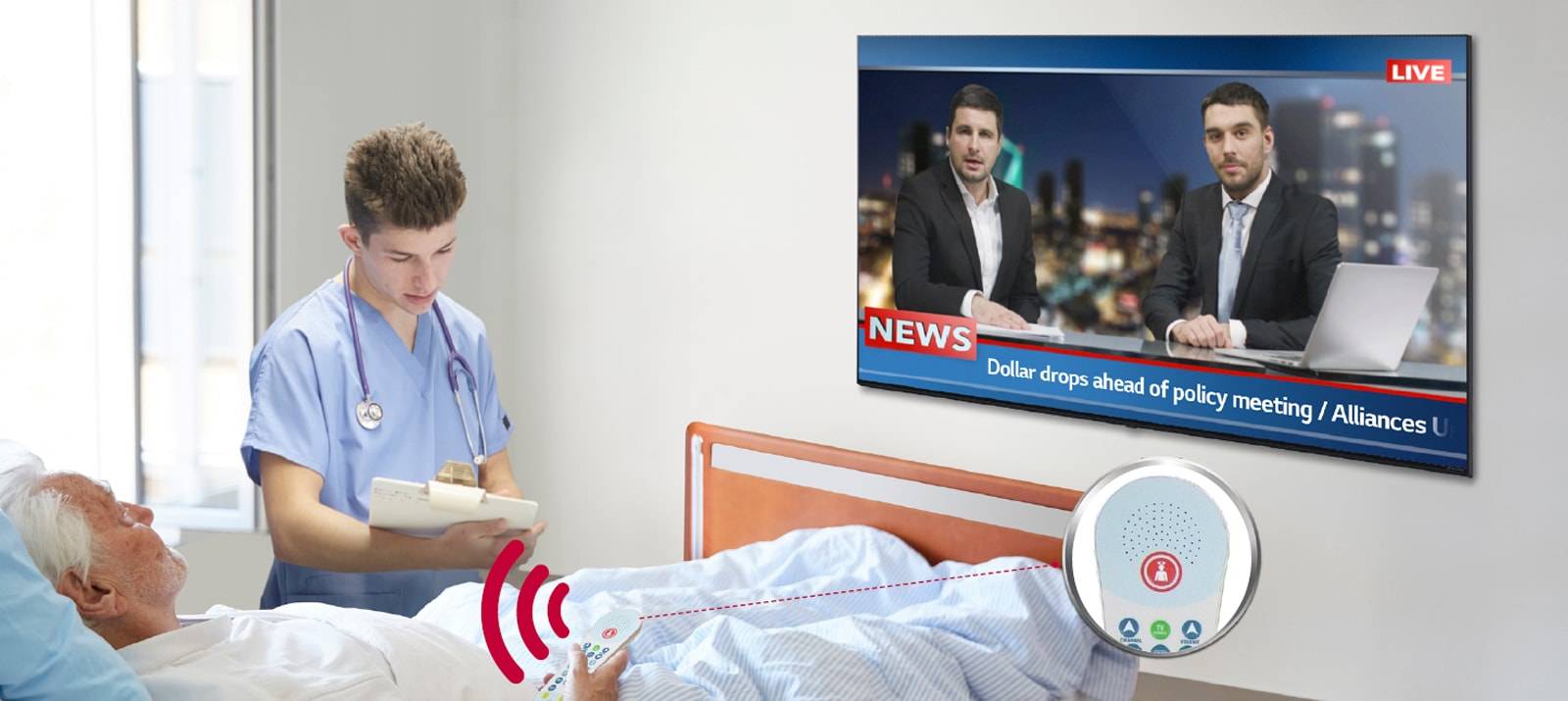 Real 4K Made by Pure Colors
The NanoCell hospital TV delivers a broad spectrum of color and lifelike accuracy with advanced NanoCell technology. Providing more brilliant and clear 4K, its visual experience will make viewers captivated.
Group Telemedicine Ready
LG NanoCell Hospital TV is ready for web-based telemedicine. Without an additional video conferencing equipment, SI can develop and deploy their web applications for 1:1 or 2:1 remote meeting. If necessary, controlling of camera* angle and zoom during a meeting is also possible.
LG Business Solutions has unveiled its 75-inch NanoCell 4K Ultra HD TV. A piece of equipment that has received UL 62368-1 certification for use in healthcare facilities. It offers facilities the opportunity to create spaces that offer high-quality remote collaboration and entertainment experiences that many patients enjoy in their homes.
The new LG NanoCell 75-inch hospital TV (75UR762M) offers hospital room integrators flexibility in designing new interactive systems for patients and is a great choice for those who have to design split-screen solutions.
"LG addresses the large-format display needs of hospitals and healthcare facilities with this new 75-inch 4K TV. Whether it's needed to deliver entertainment or deploy patient engagement solutions, it has everything a healthcare environment needs, including pillow speaker support," said Tom Mottlau, director of healthcare, LG Business Solutions USA.
UL-Listed Hospital TVs with NanoCell Technology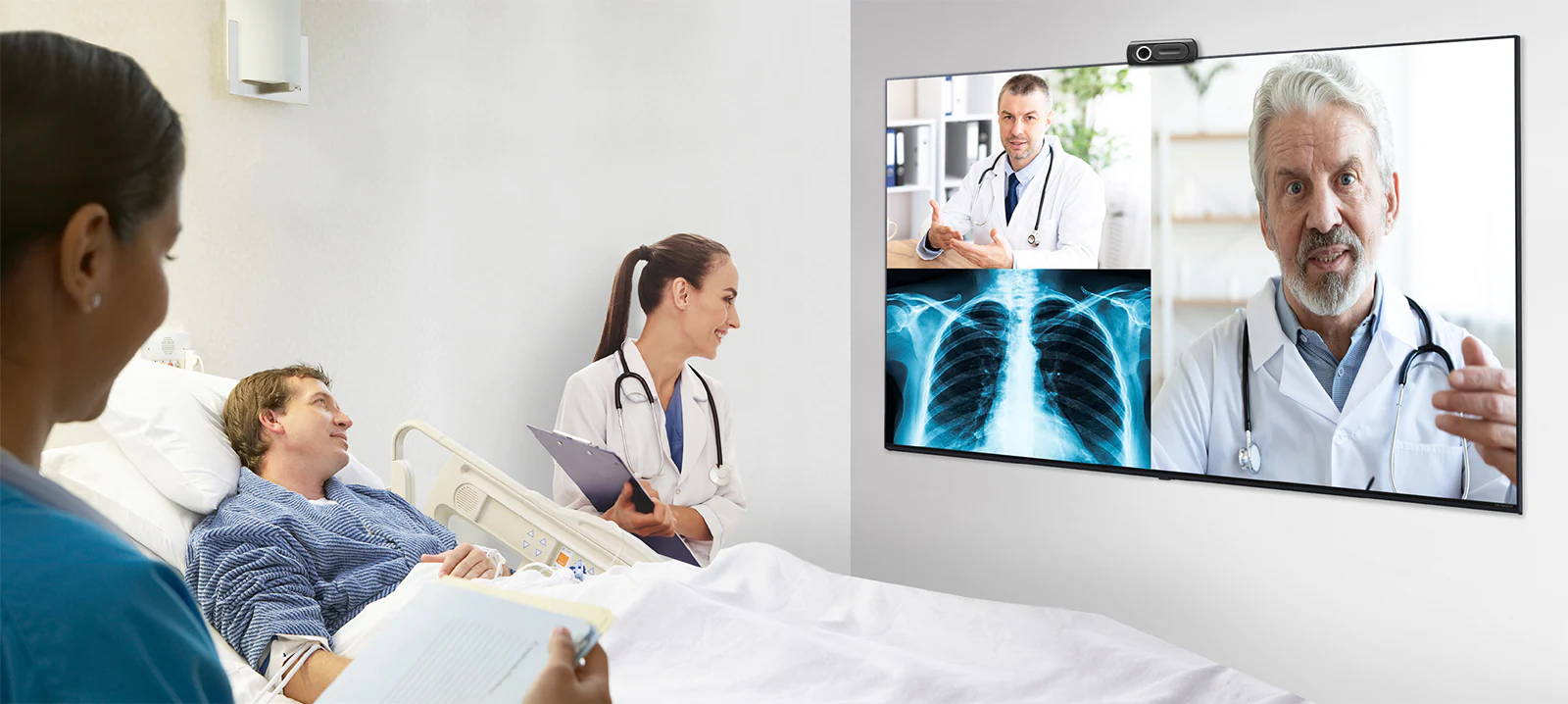 Contact Us for the LG NanoCell Hospital TV
Pro:Centric
Hospital Management Solution

The hospital content management solution Pro:Centric Direct offers easy and simple editing tools, making it easy to perform service and IP network-based remote management. The Pro:Centric Direct solution enables users to edit their interface easily by providing customized interface and efficiently manages all TVs in the hospital.
Software-enabled Access Point (SoftAP) is a "virtual" Wi-Fi feature that uses TV as a wireless hotspot, enabling patients to connect their own devices to the SoftAP.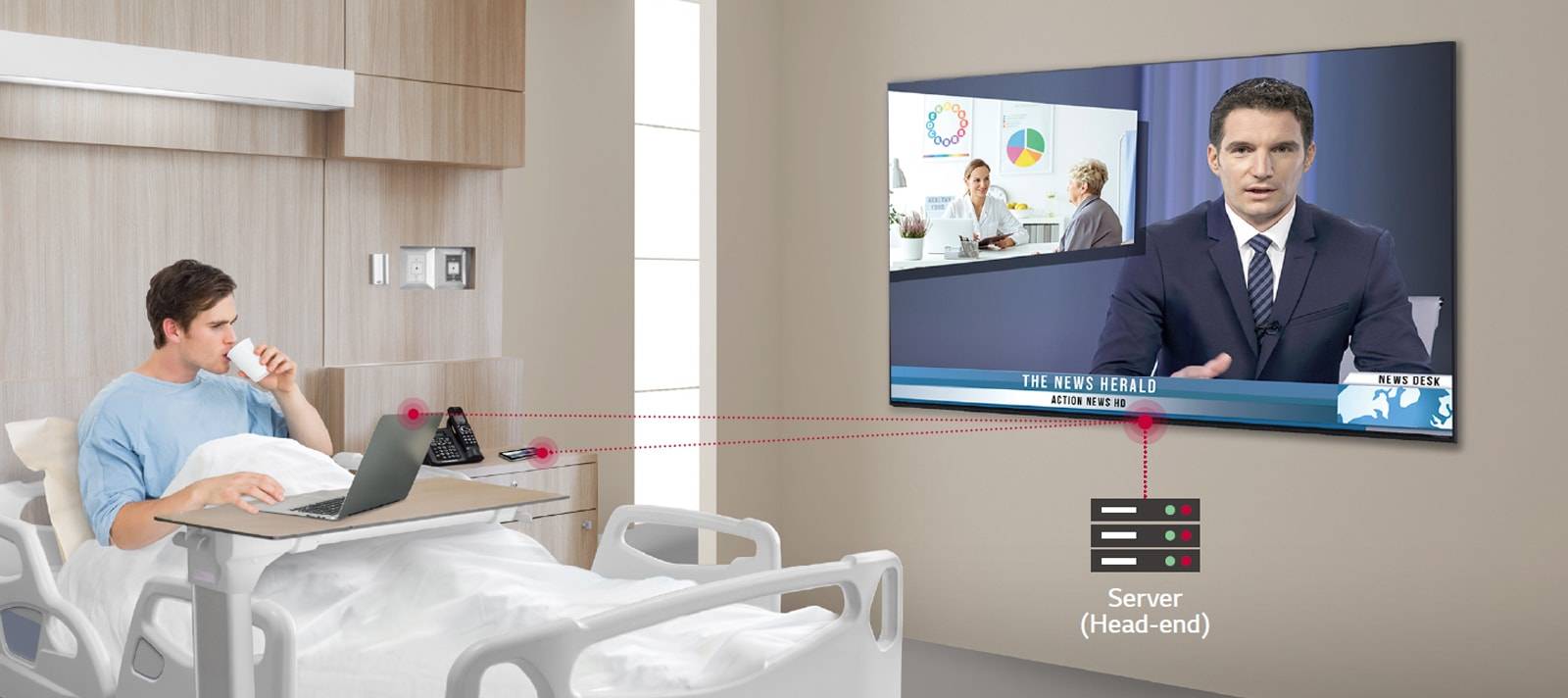 75UR762M (NA)

LG 75" NanoCell Hospital TV
UL Hospital Grade Listed
Pillow Speaker & Nurse Call Ready
Web-based Telemedicine Ready
Pro: Centric Hospital Management Solution
LG's NanoCell hospital TVs are designed to simplify system operations and design, with the company's Pro: Centric Smart and Pro: Idiom platforms providing easy access to streaming services for entertainment and broad support for video collaboration options.
The Pro: Centric platform is helpful for hospitality and healthcare integrators because it allows them to manage screens remotely over IP and create custom interfaces using simple built-in editing tools.
The LG NanoCell 75-inch hospital TV also includes a 6-pin interface with 'pillow speakers' that allows compatibility with specific hospital nurse call systems.
It also offers a commercial installer menu with various settings for patient rooms and a SoftAP (software-enabled access point), which provides additional WiFi access points for patients and visitors.
System integrators can also leverage LG's webOS 6.0 and Pro: Centric intelligent TV platforms to implement custom telehealth solutions with the help of built-in dual 10-watt speakers and multi-webcam support via a USB input.
The TV allows streaming applications and custom-designed video distribution systems without needing a set-top box at the TV's location.
It offers a brightness of up to 330 nits and a contrast ratio of 1,000,000:1, providing high-quality images for virtually any content and room. Assembly is quick and convenient thanks to a standard 400×400 Vesa configuration compatible with many brackets.
SUBSCRIBE TO OUR NEWSLETTER
Recieve our latest weekly releases, offers, guides and more.