Biamp Hub supports wireless collaboration with USB room devices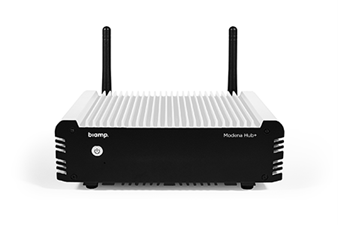 The Biamp Modena Hub + is a wireless collaboration hub that supports local room USB devices. Ideal for BYOD and BYOC spaces, the Modena Hub + allows participants to connect to meeting room AV equipment and use the rooms USB accessories wirelessly as well as enabling any participant to wirelessly receive the meeting content during the video conferencing session. The Modena Hub supports most UC software and hardware devices, while enabling users to utilize wireless collaboration to share content with other meeting participants. Modena Hub connects to room peripherals via USB and HDMI. It can support multiple USB devices via a standard USB hub or by connecting a Devio SCR-20 or SCR-25.
Our team of AV engineers have recently tested the Modena Hub + at our AV Staging facility in Concord, CA and put the device through the paces. The capability of the Modena Hub + has proven to be a Winner with us and easy to connect USB devices in the room. Testing also has been completed using different configurations with utilizing the Devio SCR-20 and the Devio SCR-25.
Enjoy a client-free wireless collaboration experience with your web browser.
Meet everywhere: With Modena Hub+, any place is a meeting room.
Enable display to receive content by connecting a computer with the web or software client, or an Android dongle; or run the Android TV app directly on a smart TV.
All personal devices can send and receive presentations directly to the screen of participants' laptops, tablets, or mobile devices.
Configure Modena Hub+ for large teaching spaces and give everyone a perfect view using Auditorium mode, for up to 150 users.
IT administrators have quick access to the wireless collaboration units installed in an enterprise via a powerful management web interface.
SUBSCRIBE TO OUR NEWSLETTER
Recieve our latest weekly releases, offers, guides and more.