When it comes to innovation, IKEA is always at the forefront of fresh ideas. So, it's no surprise that the design team at their flagship London branch in Wembley embarked on a remodeling project with the goal of creating a cutting-edge, immersive, and interactive experience to inform and delight customers. This ambitious vision became a reality with the help of BrightSign media players and Digital Signage, which played a pivotal role in transforming the shopping experience.
The objective was clear from the start: draw customers into the new space and captivate them with an engaging exploration of IKEA's products. Stuart Harris, the founder and creative director of projection mapping specialists Motion Mapping, was entrusted with bringing this vision to life. The collaboration between Motion Mapping and IKEA was sparked by a demo of an interactive table that had garnered attention on social media. The IKEA team was inspired by the combination of digital elements and physical products, and they approached Motion Mapping with their aspirations.
What followed was an exciting journey of collaboration and creativity. Motion Mapping, working closely with IKEA's in-house design and visual merchandising teams, crafted a captivating narrative that formed the basis of the content. The installation seamlessly integrated carefully placed projectors, screens, and sensors, resulting in a visually arresting and surprising experience. Furniture pieces came to life through animation, transforming into interactive information points. A friendly "co-worker" character appeared intermittently, providing insights about the products and encouraging customers to delve deeper. The dynamic display also featured windows showcasing realistic outdoor scenes and a dazzling art wall, harmoniously creating a beautiful and stimulating environment that showcased the essence of personal workspaces.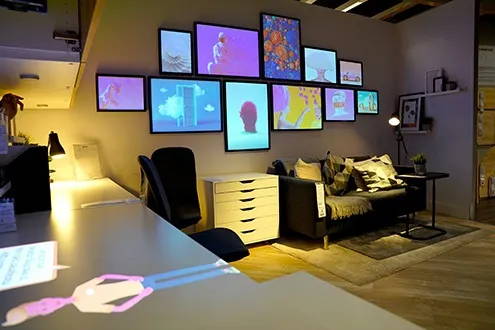 To achieve this remarkable feat, Motion Mapping relied on the power of five individual BrightSign HD1024 media players, each driving one of the five captivating "windows." These windows, in fact, were Samsung 65-inch 4K screens framed by wooden casements, meticulously designed to immerse customers in an immersive experience. Additionally, two HD1024 media players powered Optoma projectors, mapping animated images onto kitchen cupboards (Optoma ZU500USTe) and a lounge area desk (Optoma ZH406ST). Other elements of the display ran on Green Hippo Karst using Datapath FX4 with Kramer fiberoptic HDMI cables. Motion Mapping leveraged the versatility of BrightAuthor:connected to create, publish, and manage the content, which was stored locally and delivered to the players across a private Ethernet network.
One of the key reasons for choosing BrightSign players was their reliability and ease of use in synchronized playback setups. Harris acknowledged, "The BrightSign players are perfect for this kind of synchronized playback set-up. They're extremely reliable and really simple to use. If we need to update content, we just log on to our control PC and push it out to all the players, and it just works." Moreover, the cost-effectiveness of BrightSign players was a significant advantage. Using a media server for each 4K screen would have incurred significantly higher expenses, making BrightSign the ideal choice for this project.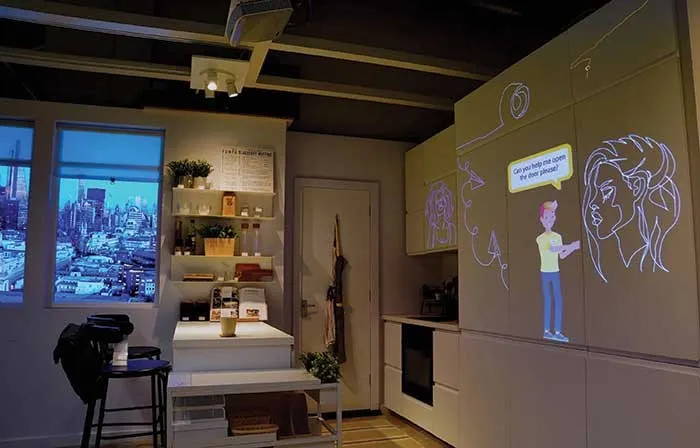 Time was of the essence for Motion Mapping, as they had to complete the project in under two months—a remarkably short timeframe for such an ambitious undertaking. However, due to their extensive experience with BrightSign players and their strategic stock of these devices, Motion Mapping successfully delivered the project within the stipulated timeframe. The installation process itself took around four days, during which Motion Mapping had to navigate the challenge of working while the store remained open. Despite the curiosity of onlookers, the team managed to install the equipment seamlessly, ensuring minimal disruption to the shopping experience.
Since its launch in early April, the revamped workspace section at IKEA's London branch has garnered high levels of interest and engagement. Customers now spend more time exploring the space and are eager to discuss and inquire about the mesmerizing display. Harris noted, "Customers want to know who created it. We've also had lots of compliments about it on social media." The success of this project even caught the attention of IKEA's senior management team, who enthusiastically shared photos and videos of the installation with other stores, expressing a desire to replicate it. Harris proudly reflected on the accomplishment, stating, "I'm proud that we pulled it all together so quickly, and it's something that people really enjoy looking at."
The collaboration between IKEA, Motion Mapping, and BrightSign has transformed the shopping experience at the flagship London store, elevating it to new heights of innovation and interactivity. By seamlessly blending digital elements with physical products, IKEA has created an immersive environment that captivates and delights customers. BrightSign players have played a crucial role in powering this transformation, offering reliability, simplicity, and cost-effectiveness. This groundbreaking installation serves as a testament to the power of technology in revolutionizing retail experiences, and it's only the beginning of what the future holds for the intersection of digital signage and consumer engagement.
Get the AVTechnology Newsletter
Recieve our latest weekly releases, offers, guides and more.
Creation Networks can help your organization implement AV solutions, Crestron control and LED videowall technology for your organization. Across California and nationwide, we design, install, and program state-of-the-art AV systems. Contact Us Today